Cost of land reclamation in two zones in Henoko rise by 13.5 billion yen to 51.3 billon yen total
May 29, 2020 Ryukyu Shimpo
On May 28 it came to light that, in March of this year, the Okinawa Defense Bureau (ODB) ordered additional construction projects for the land reclamation work on the Futenma Replacement Facility (FRF) in Henoko, Nago City, thereby increasing the original cost of contracts by a total of approximately 13.5 billion yen. Soil deposits started in just two project areas, zones "(2)-1" and "(2)". However, since 2017 a total of six construction projects have been ordered, and these construction costs have reached 51.3 billion yen.
Land reclamation work is currently advancing on the shore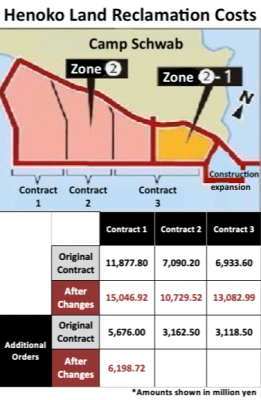 in Henoko. The ODB separated the two zones into three project areas and, in 2017, placed construction project orders. Even since 2017, contract changes have piled up.
In March of this year three construction projects were ordered, and these projects will require further soil deposits and more land reclamation sites. One of these projects immediately changed a contract, and the contract sum increased from 5,676 million yen to 6,198.72 million yen.
The zones are in following with 2017 construction, but the contracts are divded into three projects. One vendor that accepted a portion of the additional orders is a joint venture that is currently handling construction under the 2017 contract.
(English translation by T&CT and Erin Jones)
Previous Article:
"Kariyushi Cabinet Meeting" cancelled over coronavirus concerns, Okinawa to hold off on sending annual gift
Next Article:
Drive-thru giveaway: come get a free tadpole or beetle from this local breeder
[Similar Articles
]