ODB begins soil deposits into new land reclamation section in Henoko at 2:58 p.m. on March 25
March 25, 2019 Ryukyu Shimpo online edition
On March 25 at 2:58 p.m. the Okinawa Defense Bureau (ODB) began initial soil deposits into a land reclamation section on the Henoko side of Cape Henoko, as part of construction of the Futenma Replacement Facility (FRF) in Henoko, Nago City.
Following the February prefectural referendum, which recorded over 70 percent local opposition to land reclamation work, the ODB has undertaken work on a new land reclamation section.
Citizens protested on the ocean and in front of gates to Camp Schwab, raising their voices against construction of the FRF.
At this time, soil deposits have started in land reclamation section 2 (measuring approximately 33 hectares), which is separate from land reclamation section 2-1 where soil depositing work is ongoing.
Just past 8:30 a.m. on March 25, the ODB notified the Okinawa Prefectural Seashore Disaster Prevention Division by phone, "As preparations are in order, we are starting land reclamation."
In the morning on March 25 preparations for soil deposits at the site took place, including the setting up of silt curtains and the moving of heavy equipment.
Shortly prior, on March 16, a prefectural rally calling for the abandonment of construction of the FRF in Henoko was held at Shintoshin Park in Naha City. According to the organizers 10,000 people participated in the rally.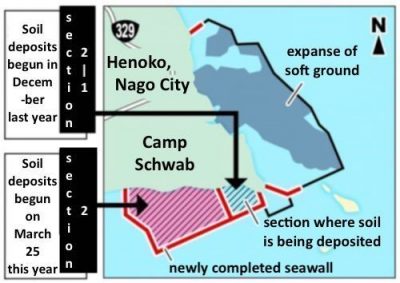 The central government is forcing land reclamation work through even after the results of the prefectural referendum have been made public, which is intensifying local opposition to the central government. When Okinawa Governor Denny Tamaki had a discussion with Prime Minister Shinzo Abe, Governor Tamaki requested that land reclamation be suspended. However, the central government conveyed its aim to begin soil deposits on March 25, as planned.
Initially, the progress schedule set land reclamation work to start in section 1 in Oura Bay. In December last year the plan was altered and soil deposits were started in section 2-1 on the Henoko side of Cape Henoko.
The plan was altered due to the discovery of an expanse of soft ground underwater on the Oura Bay side of Cape Henoko, making ground reinforcement work essential to the construction process. On the Oura Bay side, there appears to be no prospect for construction of the seawalls, the step prior to soil deposits, and none of these construction plans have been made public.
(English translation by T&CT and Erin Jones)
Previous Article:
In an effort to halt land reclamation, Okinawa files lawsuit against Japan, claiming "injunction ending Henoko stoppage is illegal"
Next Article:
Iwate's Prefectural Assembly first besides Okinawa's to request Henoko land reclamation halt
[Similar Articles
]