MOD continues Henoko construction without transplanting rare coral, evading OPG engagement
April 10, 2018 Ryukyu Shimpo
On April 9, the Okinawa Defense Bureau (ODB) started work on N3 seawall in Henoko, part of construction for a replacement facility for Futenma Air Station.
N3 is the final section needed to enclose one area on the south side of Cape Henoko, into which soil will be deposited following enclosure.
The same day at a meeting of the Environmental Oversight Committee, the ODB made an announcement in regard to a colony of scarce Stylaraea punctata coral found outside the ocean area planned for land reclamation work.
Rather than getting approval from the governor of Okinawa to transplant the coral, the ODB changed its plan to simply moving forward with construction.
In July the ODB aims to fill in the ocean area that will be enclosed by the N3 seawall and two already-constructed seawalls.
It is a foregone conclusion that the Okinawa Prefectural Government opposes the Japanese government speeding up embankment work.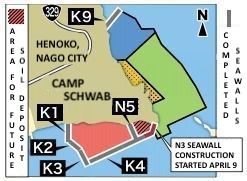 The N3 seawall that is under construction will stretch southwest from near the tip of Cape Henoko, and will complete the south side land reclamation boundaries.
N3 will measures 135 meters in length, and is the 7th seawall section to be constructed. On April 9 around 9:40 a.m., rock-laying work began.
When N3 embankment is completed and is connected to the K4 and N5 embankments, it will enclose the land reclamation boundaries and make it possible to deposit soil near the tip of Cape Henoko.
Construction of N3 is expected to take about two months for completion in June. The Japanese government is also hoping to connect these three embankments during June.
Concerning the plan to move embankment work forward without transplanting the colony of Stylaraea punctata, the ODB has mentioned the potential of decreasing the amount of rock put into the ocean per day, and increasing the number of silt barriers set up around the seawalls from two layers to four layers so as not to affect the surroundings.
The Environmental Oversight Committee also accepted this change.
Instead of once again applying for special harvesting approval from the OPG, which opposes Henoko base construction, the Japanese government appears to be trying to evade any authority that the governor can exercise.
The Japanese government has also demonstrated that its objective is to speed up construction by increasing the number of cargo ships used to haul in crushed rock to two.
(English translation by T&CT and Erin Jones)
Previous Article:
Futenma Daini Elementary sports field evacuated 242 times over 39 days for U.S. military flights
Next Article:
Multilingual contact center opens to support foreign tourists for medical interpretation
[Similar Articles
]