Central government disregards Okinawa's guidance, forces further Henoko embankment work
November 7, 2017 Ryukyu Shimpo
On November 6, the Okinawa Defense Bureau (ODB) of the Ministry of Defense (MOD) undertook construction of two new seawalls related to construction of a replacement facility for Futenma Air Station at the planned site in Henoko, Nago City.
This construction in question is embankment work on the K1 and N5 seawalls, located in two spots in the southwest of the land reclamation area.
The seawalls are intended to enclose the land reclamation area.
Last summer, the Japanese government completed a part of seawall in one fixed section of the land reclamation area, and has now indicated that soil and earth is being hauled there to start filling that section.
In light of the Okinawa Prefectural Government (OPG) providing administraitive guidance that construction be suspended and filing a lawsuit against reef crushing activity by the Japanese government, this new move to push construction will presumably make backlash from Okinawans even stronger.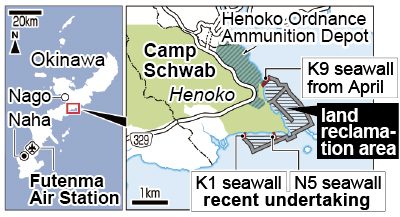 Just past 10:00 a.m. on November 6, the ODB began construction of the K1 seawall which will form the border of the land reclamation area on the southwest side of Cape Henoko, and the N5 seawall which will form a partition within the area.
A bit past 10:30 a.m. the same day a crane was observed in the N5 section lowering crushed stone into the ocean, and in the K1 area crushed stone was being dropped onto the beach. On the water, citizens protesting new base construction from protest boats have been chanting the words: "Don't destroy the blue ocean any more.
" In July, the OPG brought a lawsuit against the Japanese government on grounds of it advancing construction illegally without reef crushing approval from Okinawa's governor.
Okinawa's governor provided administrative guidance in October, requesting that the Japanese government suspend construction and engage in consultations with the OPG over coral conservation measures and using maritime transport for K9 embankment work.
However, the ODB is forcing construction through without heeding this guidance.
Construction on the K9 seawall first began in April. The seawall is by plan supposed to extend about 300 meters in all, but at about one-third of the planned wall, or 100 meters into the ocean, progress halted.
From here on, instead of transporting stones and construction materials by land, the ODB is planning to speed up construction by making use of the seawall as a docking place for boats and barges, so that stones can be hauled over the water.
(English translation by T&CT and Erin Jones)
Previous Article:
Hawaiians with Okinawan ancestry play sanshin for peace in Yomitan
Next Article:
Serious accident rates increase for Ospreys over the last year
[Similar Articles
]