Shurijo Castle Park reopens majority of restricted area after fire
December 12, 2012 Ryukyu Shimpo
Shurijo Castle Park Management Center announced on December 11 that areas of the park affected by the fire will partially reopen to the public on December 12; namely the Kankaimon, Kyukeimon and Kofukumon gates, the Iri-no Azana (west azana watchtower) and the Zeni-kura (above ground cellar).
About 80% of the area that was available to the public prior to the fire will reopen once again.
Gov. Denny Tamaki made a statement on the reopening and urged locals and tourists to "Please visit Shuri Castle and explore the new self-guided Shurijo tours."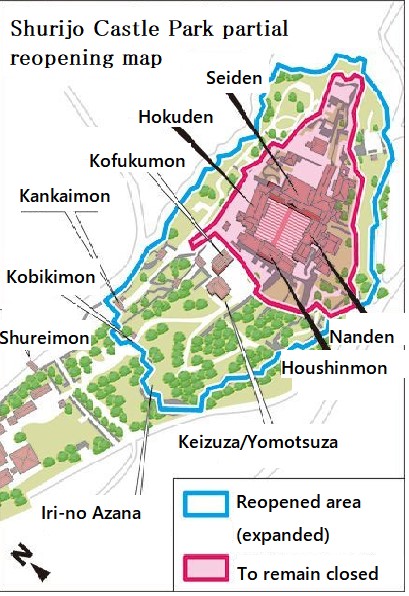 The Shichanu-una (lower courtyard) will also be accessible to the public, and the Hoshinmon gate which was affected by the fire will be available for viewing.
In an effort to draw more visitors, the Shurijo Castle Park Management Center has designed new self-guided "Shuri Castle reconstruction" tours, including a short route through the grounds and the "Shuri Machimai course."
(English translation by T&CT and Monica Shingaki)
Previous Article:
Nansei Islands Dugong Declared Critically Endangered The World's Largest Nature Conservation Network Worries about the Impact of New Base Construction
Next Article:
Here's what to know about the new food hall on Kokusai Street
[Similar Articles
]