New Year's ceremony held at Shuri Castle
January 3, 2011 Ryukyu Shimpo
From January 1 to 3, an event called Shinshun no Utage or New Year's Banquet was held at Shuri Castle in Naha. The Chouhaiokishiki or Imperial Court New Year's morning ceremony, which used to take place at Shuri Castle on New Year's day during the Ryukyu Dynasty, was revived and many tourists enjoyed watching the solemn ceremony.
On January 1 and 2, Ninufanu-unufe, which is one of New Year's ceremonies and an occasion to pray to the gods was carried out. The King appeared in front of the Una forecourt of the Seiden main hall in Shuri Castle. After lighting some incense, he prayed for a peaceful year.
On January 3, the Ryukyu no Utage or Banquet of the Ryukyus was held. Takashi Inoue, a company worker from Tokyo said, "It was a solemn event. This year will be a good year."
For further information contact the Shurijo Castle Park Management Center. Telephone: 098 (886) 2020.
(English translation by T&CT, Lima Tokumori and Mark Ealey)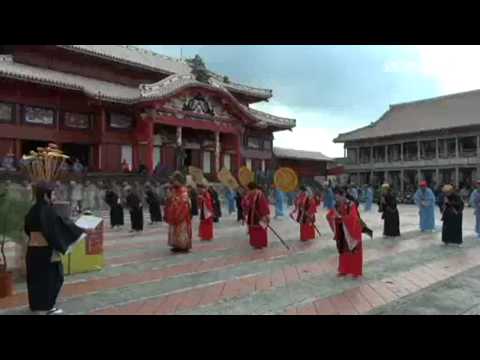 Go To Video
Previous Article:
Less than 50 percent say that they can speak the Okinawan dialect
Ryukyu Shimpo conducts an attitude survey
Next Article:
Okinawa Governor to reject the reclamation of the coastal area of Henoko
[Similar Articles
]