Yamashiro to appeal guilty verdict from Naha District Court as "unfair"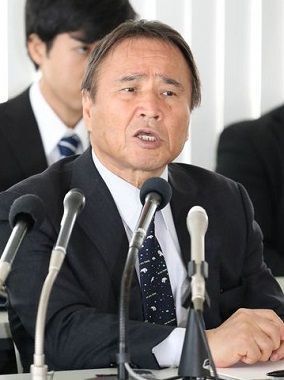 March 15, 2018 Ryukyu Shimpo
On March 14, Judge Toshihiro Shibata of Naha District Court passed down his ruling against 65-year-old Hiroji Yamashiro, the chairman of the
Okinawa Peace Movement Center, and his two co-defendants.
The defendants were charged with forcible obstruction of official business and obstruction of performance of public duty resulting in bodily injury, due to their protest activities against the construction of a new base in Henoko, Nago and of Northern Training Area (NTA) helipads in Takae, Higashi Village.
Judge Shibata said that their actions were performed as part of the U.S. base opposition movement, but that their criminal acts cannot be justified.
He sentenced Yamashiro to two years' imprisonment, with a stay of execution of three years.
The prosecution had suggested two years and six months' imprisonment.
Yamashiro and his co-defendants argued that the background of the protest movement was not considered, that solely their actions were focused on and discussed out-of-context.
They voiced their dissatisfaction with the ruling, criticizing that it put the precept of the law above the purpose, and is therefore unfair.
Yamashiro lodged an appeal with a higher court the same day.
Sixty-seven-year-old Hiroshi Inaba, who helped Yamashiro pile blocks in front of a gate to Camp Schwab used for hauling in construction materials, was charged with forcible obstruction of official business and sentenced to eight months' imprisonment, with a two-year stay of execution.
The prosecution had recommended a one-year sentence for Inaba.
Forty-five-year-old Atsuhiro Soeda was indicted for his protest activities against construction of helipads in the NTA, and he was cleared on one charge.
His sentence is one year and six months' imprisonment, with a five-year stay of execution.
The prosecution had recommended a sentence of two years for Soeda.
Inaba appealed the ruling to a higher court that day, along with Yamashiro.
Yamashiro has continued to oppose the Henoko base and related issue, and engage in protest activities.
The Japanese government sent in about 500 riot police officers, raising the intensity of protest movement.
Through this Yamashiro was arrested and detained for five months on-end.
The international community became increasingly critical of his long-term detention.
The defense claimed in court that the trial was drawing international criticism and garnering public attention.
In the reasoning for his verdict, Judge Shibata recognized the legitimacy of the block-piling act in that it was "in a sense a form of expression. However, he ruled that the activity went beyond merely the expressive aspect.
He decided that this action fell outside the scope of freedom of expression guaranteed by the Constitution.
Judge Shibata verified that the series of actions in which Yamashiro engaged, including piling blocks and standing in the way of construction vehicles, did match the crime of obstructing official business.
Furthermore, the judge criticized Yamashiro's actions as unjustifiable, and indicated that displaying this kind of leadership in the base opposition movement had influenced other leadership figures to commit crimes and act as his accomplices.
In regard to Soeda being charged with violating the Special Criminal Law, Judge Shibata made an unprecedented ruling that trespassing is subject to punishment even if there are no signs clearly indicating that entrance is prohibited.
According to the judicial decision, in January 2016 Yamashiro piled 1486 blocks in front of a gate to Camp Schwab in Henoko being used for construction, which obstructed the hauling in of materials for construction.
(English translation by T&CT and Erin Jones)
Previous Article:
Naha District Court rules against Okinawa in lawsuit to prevent coral reef destruction, does not rule on fishing rights
Next Article:
Jacksonville Okinawa Kenjin Kai celebrates 30th anniversary with various Ryukyu arts performances
[Similar Articles
]