Naha District Court rules against Okinawa in lawsuit to prevent coral reef destruction, does not rule on fishing rights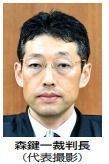 March 14, 2018 Ryukyu Shimpo
The Naha District Court handed down its ruling on March 13 in the lawsuit filed by Okinawa Prefecture against the Japanese central government demanding that the destruction of coral reef in Henoko Bay be stopped, arguing that the U.S. military did not have permission to damage the reef while constructing new facilities in Henoko as part of the relocation of MCAS Futenma.
Chief Justice Kenichi Mori dismissed the case, stating, "The prefecture's suit is not a matter to be decided in court."
The case was dismissed before the real arguments could be made at trial.
The request for a temporary injunction against construction until a decision had been reached was also similarly dismissed.
This defeat is the second straight loss after a suit debating the legality of revoking approval for reclamation work at Henoko was also ruled in favor of the central government.
Okinawa is planning to appeal.
Chief Justice Mori referenced a 2002 Japanese Supreme Court decision regarding a local ordinance passed in Takarazuka for Pachinko in ruling that the suit to demand the stopping of coral reef destruction was filed with the intent of protecting the common good by demanding others to fulfill their administrative duties, and a suit cannot be filed simply to force others to follow local ordinances and rules.
It is still contested whether or not this same ruling is applicable in the case where the defendant is the Japanese government, however the claim made by Okinawa regarding the problematic actions of the central government was dismissed, as "The ruling was not determining whether the defendant was a governing body or each citizen individually."
Another suit filed to confirm a duty to acquire permits in accordance with Okinawan fishing rights rules was also struck down based on the same Supreme Court ruling.
Okinawa continues to argue that the fishing rights in the reclamation area that the Okinawa Defense Bureau (ODB) treat as having expired still exist, and that permission must be obtained from the governor before construction can commence.
However, Chief Justice Mori has called the suit illegitimate, claiming that it "does not warrant adjudication," and would not deliberate the presence or absence of the fishing rights.
The suit was filed by Okinawa to determine whether or not the fishing rights still existed, as the ODB did not renew their permit to destroy coral where fishing rights exist when it expired in March of last year, as they considered the fishing rights in the reclamation area to have been relinquished.
Kiichiro Jahana, the governor's chief of staff, who listened to the ruling in the courtroom, said, "It's a shame. There was absolutely no ruling on whether or not the fishing rights exist."
(English translation by T&CT and Sam Grieb)
Previous Article:
Parent and child humpback whales spotted in Oura Bay
Next Article:
Yamashiro to appeal guilty verdict from Naha District Court as "unfair"
[Similar Articles
]