Japan National Governors' Association study on U.S. military crime shows nearly half occurs in Okinawa
July 28, 2017 Ryukyu Shimpo
On July 27 it came to light that spanning the eight years between 2008 and 2015, out of the number of reported crimes committed by U.S. Forces, Japan (USFJ) military personnel, civilians in military employ, and their families living in Japan, those crimes committed in Okinawa accounted for 47.4 percent of all such crimes domestically. A study group on the U.S. base burden that has been established within the National Governors' Association aggregated this information.
Out of military facilities for exclusive use by the USFJ, the high proportion of 70.4 percent is in Okinawa. On top of aircraft noise damage and risk of aircraft crashes, harm caused by crime is another of the many burdens putting pressure on Okinawa, once again thrown into relief by this study.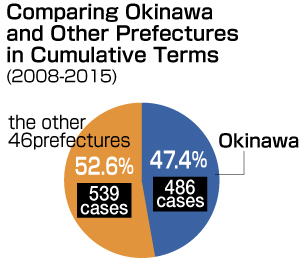 According to the study group on the U.S. base burden's study, over eight years starting in 2008 the number of reported criminal cases committed by persons related to the USFJ in Okinawa alone has oscillated between 39.8 to 54.7 percent of these cases domestically. Cumulatively over those eight years there have been 1025 cases reported, of which Okinawa has accounted for 486, or 47.4 percent.
This study group was established in July 2016 within the National Governors' Association in response to Governor Takeshi Onaga of Okinawa entreating the governors of other prefectures to "earnestly consider the Okinawa military base issues as if these were their own affairs."
Governor Kiyoshi Ueda of Saitama Prefecture chairs the study group. Membership consists of eleven prefectural governors including Kyoto's governor Keiji Yamada who is president of the National Governors' Association, and the governor of Kanagawa Prefecture Yuiji Kuroiwa, who also chairs a liaison council of governors with U.S. bases in their jurisdictions.
Up to this point the study group on the U.S. base burden has held three meetings. In addition to hearing out Governor Onaga on the current status of the military base burden on Okinawa, the study group has also engaged in activities such as inviting Professor Narushige Michishita of the National Graduate Institute for Policy Studies to speak about the U.S.-Japan alliance. On July 28 Ueda, as chair of the study group, reported on these activities at the National Governors' Association meeting in Iwate Prefecture.
In Okinawa in April 2016 an Okinawan woman was assaulted and killed by a civilian in U.S. military employ. In response to this incident the central government allocated funds to a "Patrolling Party for Okinawa Community Security," and decided to install measures such as security lights and cameras in each community. The prefectural police have recruited 100 police officers to assign to these patrols since January 2017.
(English translation by T&CT and Erin Jones)
Previous Article:
Survey conducted by Okinawa Prefecture finds 65% of people outside the island do not identify Okinawa as "The birthplace of Karate" – issues include lack of income and successors
Next Article:
Ceremony held for 0.8% land return of Futenma base, Governor Onaga demands whole base to be moved out of Okinawa
[Similar Articles
]