Over 40 percent of Okinawans want bases withdrawn and 53 percent want Marines withdrawn
June 3, 2016 Ryukyu Shimpo
Between May 30 and June 1 Ryukyu Shimpo and Okinawa Television Broadcasting Company (OTV) jointly conducted a public opinion poll related to the recent incident of a U.S. military base employee dumping the body of an Okinawan woman. The poll targeted Okinawans over the age of 18. When asked to select what measures should be used to prevent incidents and accidents related to military personnel, the most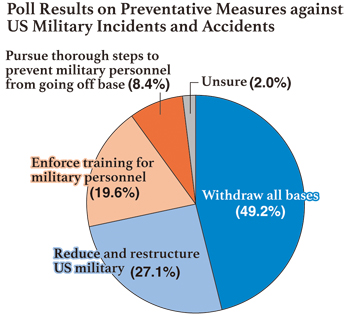 popular answer was 'withdraw all bases from Okinawa' at 42.9 percent. The other answers selected were 'reduce and restructure the U.S. military in Okinawa' at 27.1 percent, 'thorough enforcement of training for military personnel' at 19.6 percent. According to the poll, 52.7 percent of respondents agreed with the prefectural assembly's protest resolution, which called for withdrawal of the U.S. Marines from Okinawa. Over 31.5 percent of respondents agreed with the alternative resolution that requested a drastic reduction of the bases.
In the poll, 79.2 percent of respondents requested that the governments of the U.S. and Japan revise or abolish the long-neglected U.S.-Japan Status of Forces Agreement (SOFA). Also, respondents opposed the government-supported plan for relocating Futenma Air Station to Henoko at 83.8 percent. After the recent body-dumping incident, 70.5 percent said they do not support the Abe Cabinet. Anti-base sentiment has surged upward following the incident.
Opposition to Futenma Air Station relocation to Henoko has increased 0.8 percentage points since the last public opinion poll in June 2015, reaching its highest level since the Abe Administration came into power in December 2012. When the poll inquired how Futenma Air Station should be relocated, the most popular answers were 'it should be relocated outside of Japan' at 31.5 percent, 'it should be closed and withdrawn soon' at 29.3 percent, and 'it should be relocated outside of Okinawa' at 23 percent. Only 9.2 percent of respondents believed that 'the Henoko relocation plan should proceed.'
At the U.S.-Japan Summit Conference that took place after the dumped body incident, Prime Minister Abe conveyed to the U.S. that Henoko is the only option for relocation of Futenma Air Station. On the poll, respondents who supported Prime Minister Abe dealing with the SOFA by not addressing it only reached 7.2 percent, while those who did not support it accounted for 70.5 percent. Even within LDP supporters 33.3 percent disapproved of Abe's handling of the matter.
In regard to the U.S.-Japan SOFA, 44.9 percent of poll respondents want 'fundamental revision,' 34.3 percent want 'complete abolition,' and 15.2 percent want the government-supported 'improvement of the implementation' of the SOFA. Of LDP supporters 63.6 percent are in favor of revision or abolition.
Poll respondents said at 42.3 percent the US-Japan Treaty of Cooperation and Mutual Security into a peacetime treaty of friendship between the U.S. and Japan. However, 19.2 percent think that the Treaty of Mutual Security should be thrown out altogether and 12 percent think it should be maintained.
(English translation by T&CT and Erin Jones)
Previous Article:
Onaga's ruling party gets big win in Okinawa prefectural assembly election
Next Article:
Editorial: Reality of "period of unity and mourning" is drunk US Navy sailor driving against traffic on national highway
[Similar Articles
]