Jasmine and Tiger's claw – Aroma of Early Summer in Okinawa
May 4, 2016 Ryukyu Shimpo
Various flowers such as Vaccinium wrightii A. Gray, tiger's claw, Chinese wood oil tree, and more are blossoming out in the northern part of Okinawa Island, signaling the coming of summer. Some of the flowers are fragrant, and the flowers will be spectacular with vivid colors and a bright aroma.
Chinese wood oil trees from Taiwan are blooming white flowers in Hana park, Higashi village. Purple Melastome and Jasmine are blooming until the end of May.
Red Tiger's claw is blossoming along route 58 in Ogimi village, adding a bright color to the rich green mountainous landscape.
(English translation by T&CT and Sayaka Sakuma)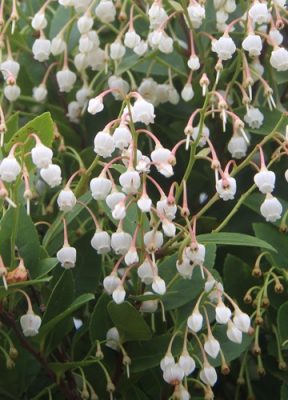 Best time to view the small white flower of Vaccinium wrightii A. Gray in Higashi.
Previous Article:
Honolulu city mayor confirms participation in 6th World Uchinanchu Festival
Next Article:
Universal Studios Japan cancels planned Okinawa theme park
[Similar Articles
]