Floss silk trees in full bloom
October 31, 2013 Ryukyu Shimpo
Floss silk trees in full bloom in various parts of Okinawa add a slash of color to the prefecture's streets and towns. Seventy-seven-year-old Naha resident Masahiro Sakumoto enjoys looking at the beautifully formed flowers on a tree in his garden.
The bright pink flowers fascinated people walking by under the blue sky on October 30.
Sakumoto's father planted the tree more than 50 years ago and has carefully looked after it ever since. Sakumoto said, "Locals sometimes rest under the big tree in summer. Besides the beautiful flowers, the young leaves are also very attractive." He carefully sweeps up the petals that scatter when the wind blows.
The floss silk tree is native to South America. It is called the southern ocean cherry because its flowers in full bloom are similar to those of a cherry tree.
(English translation by T&CT, Mark Ealey)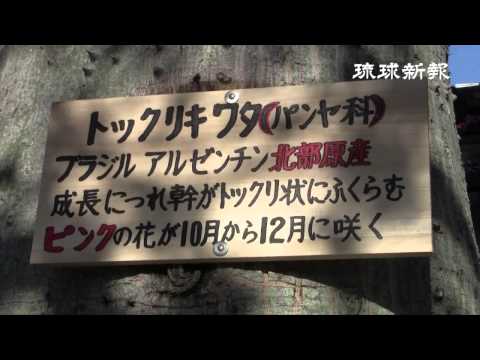 Go To Video
Previous Article:
Orion Beer to operate mega solar plant from next April
Next Article:
First generation Okinawan Bolivian couple returns to their homeland
[Similar Articles
]