[Digital edition extra] Governor Onaga questions the state of local autonomy and democracy in Japan
December 2, 2015 Ryukyu Shimpo digital edition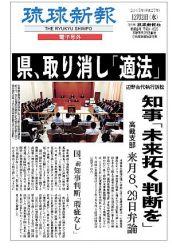 In the struggle over the planned construction of a new base in Henoko, Nago as part of the relocation of U.S. Marine Corps Air Station Futenma, the Minister of Land, Infrastructure, Transport and Tourism has filed a lawsuit demanding suspension of execution of Governor Takeshi Onaga's order to nullify the Henoko land reclamation permit, as well as demanding the right to authorize the land reclamation in lieu of the governor. At 2:00 p.m. on December 2, the initial hearing for the lawsuit began at the Naha branch of the Fukuoka High Court (presiding judge Toshiro Tamiya).
Governor Onaga, the defendant, made his statement before the court, touching on the history and current situation of Okinawa's excessive burden of military bases and saying he hopes for a judgement that will open up the future for Okinawa and Japan.
Governor Onaga explained the history of forced land seizure to build U.S. military bases in Okinawa and emphasized that currently, the U.S. military bases pose the primary obstacle to economic development in Okinawa. He questioned whether the Futenma base could really be left in its current location in the event that the Henoko base cannot be built.
The governor further spoke about the state of local autonomy and democracy in Japan, arguing that the issues at stake in the trial exceed the question of legal validity of his nullification of the land reclamation permit based on the Public Waters Reclamation Law.
Governor Onaga entered the Naha branch of the Fukuoka High Court at 1:35 p.m. on December 2 to give his statement.
(English Translation by T&CT and Sandi Aritza)
Previous Article:
Japan formally asks Ishigaki Island to host JGSDF units
Next Article:
Ishigaki commemorates 20th anniversary of sister-city relationship with Su'ao, Taiwan
[Similar Articles
]