OPG estimates return of US Futenma base will bring 32 times the economic benefit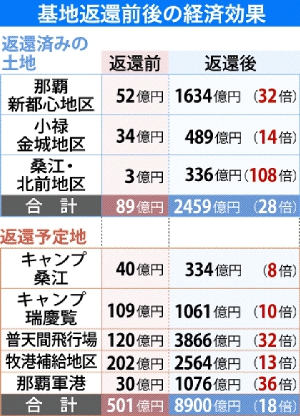 February 5, 2015 Kazuki Furugen of Ryukyu Shimpo
The Okinawa Prefectural Government (OPG) has estimated the economic effect of the future closure and return of the U.S. bases on Okinawa. This estimation highlights a possibility of economic growth as a result of the use of the lands returned from U.S. Military to owners. Closure and return of the Futenma base will produce 32 times more direct economic effect than is produced now by the base.
The returned lands in Kuwae and Kitamae area in Chatan have created 108 times more direct economic effect and those in the Shintoshin area in Naha have produced 32 times more. The OPG published a similar report in March 2007. This time, it has estimated economic effects using current statistics and reflecting municipalities' policies for industrial vitalization.
The governments of Japan and the United States plan to return Camp Kuwae, camp Zukeran, Futenma Air Base, Makiminato Service Area and Naha Military Port to the owners. The lands of the five facilities will produce a combined effect of 18 times more direct economic benefit than now, the OPG estimates. Calculations on the economic ripple effect of the five facilities show that employment will increase from a current 4,400 jobs to 80,503, tax revenue from 5.7 billion yen to 100.4 billion yen. This equates to 18 times more tax revenue and employment than now.
The direct economic effect from the Futenma base is now 12 billion yen. The land that would be returned to the owners from U.S. military will bring a benefit of 386.6billion yen. The employment will increase by 32 times what it is now, from 1,074 to 34,093 jobs. The tax revenue will be 32 times more, from 1.4billion yen to 43 billion yen.
The direct economic effects from Kuwae and Kitamae areas in Chatan have increased to 33.6 billion yen from 300 million yen, when the lands were used for the U.S. military. The economic effects from the Shintoshin area in Naha have increased to 163.4 billion yen from 5.2 billion yen after the lands were returned. The total economic benefit in the three districts, including Kinjo and Oroku areas in Naha, has been 28 times that of when they were under U.S. military use, according to the OPG's estimation.
An official from the OPG said, "The lands returned from the military produce huge economic effects. Early return of the U.S. bases and planning how to use them is important."
(English translation by T&CT, Hitomi Shinzato)
Previous Article:
ACSILs demands an apology for annexation of Ryukyu, calling it a "Violation of International Law"
Next Article:
Nago City Assembly asks JCG to stop taking excessive actions against citizens
[Similar Articles
]