OIST to build an experiment facility for marine life at Seragaki Fishing Port
December 18, 2014 Haruko Tabuki of Ryukyu Shimpo
The Okinawa Institute of Science and Technology (OIST) will build a "maritime experiment facility (tentative name)," for research and observation of marine life, at the site of Seragaki Fishing Port in Onna Village.
It will be the first OIST research facility to be built in the area.
The institution plans to carry out ecology investigation aimed at exterminating acanthasters in cooperation with the Onna Fisheries Cooperative. It also intends to study marine life in the East China Sea, and ocean currents.
Many people hope the construction of the new facility will contribute to promote local industries, education, and research works with other organizations in the area.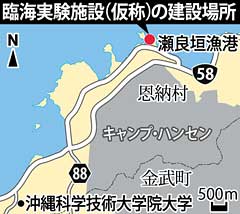 According to OIST, researchers at the facility will collect marine organisms and temporarily house them for study.
At a site of about 9 square-meters, the institution will build a rearing facility and marine water withdrawal facility for raising marine organisms. The design work of the facility will be completed this fiscal year. OIST will start building the facility from next fiscal year.
OIST has not yet had its own facility for collecting marine life. It has been collecting and studying them at Sesoko Island's Sesoko Research Center run by the University of Ryukyus.
Building the new facility at Seragaki Fishing Port, only 10 minutes away from the institution, will help streamline research activities, according to OIST.
OIST researchers have carried out long term biological research for acanthasters, working with the Onna Fisheries Cooperative, which is involved in preserving coral reefs. Setting up the new facility could further strengthen their relationship.
In addition to collaborative projects, fishermen from the cooperative will help OIST's researchers by using research ships to collect marine life.
The head of the cooperative Masami Yamashiro said, "I expect research results will contribute to develop aquafarming and fishing."
An OIST spokesperson said, "The new facility will be useful for collaborative projects with the cooperative and researchers who carry out research on marine life in East China Sea."
Onna Village Mayor Fumiyasu Shikiya said, "The new facility could contribute to promoting the village by giving a boost to the village's fishing industry and preserving the environment."
The fishing port was built in 2010, and is managed by the village. About 20 to 30 fishermen as well as tourist divers are currently using the port.
(English translation by T&CT)
Previous Article:
Paralympian athlete Ueyonabaru receives Okinawa Colony Award
Next Article:
US military police officer arrested on suspicion of driving under the influence
[Similar Articles
]