Ceremony marking the establishment of the Okinawa Institute of Science and Technology Graduate University
November 20, 2011 Ryukyu Shimpo
A ceremony to commemorate the establishment of the Okinawa Institute of Science and Technology Graduate University (OIST, President Jonathan Dorfan) was held at its main campus in Tancha, Onna Village on November 19.
The ceremony was attended by about 500 people including staff involved in the University, representatives from various organizations within Okinawa Prefecture and the Ministry of Education, Culture, Sports, Science and Technology, as well as from institutions of higher education both within Japan and overseas.
All involved hope that world-class study of science and technology and the education provided by OIST will contribute to the promotion of science and technology and the self-sustaining development of Okinawa.
Dorfan touched upon the outlook for OIST in his speech, saying, "We would like to continue contributing to the prefecture by offering education and carrying out research that employs world-class technology."
Director of OIST Akito Arima offered some words of encouragement, saying, "I would like OIST to become a university that Okinawan people are truly proud of, and I hope that it stimulates the internationalization of the universities of Japan."
Tatsuo Kawabata, State Minister in Charge of Okinawa Affairs, enthusiastically said, "Technology can make the dreams of the human race come true. I will strive to achieve the stated purpose of OIST and to facilitate the further development of Okinawa."
Okinawa Governor Hirokazu Nakaima said, "I hope that OIST makes a great contribution to technological innovation initiated in Okinawa."
Dr. Charles Vest, President Emeritus of the Massachusetts Institute of Technology, delivered the keynote speech, saying, "OIST is born and raised in Okinawa. It will bring huge benefits to Okinawa across the ages. OIST will also contribute to the world as a global agency in the era of globalization of knowledge."
OIST is host to about 200 researchers from all around the world in preparation for launching the school in September 2012. It only offers a 5-year PhD program in science and accepts just 20 new students for each year group. OIST is notable for offering interdisciplinary research that defies the boundaries of particular fields.
(English Translation by T&CT, Mark Ealey)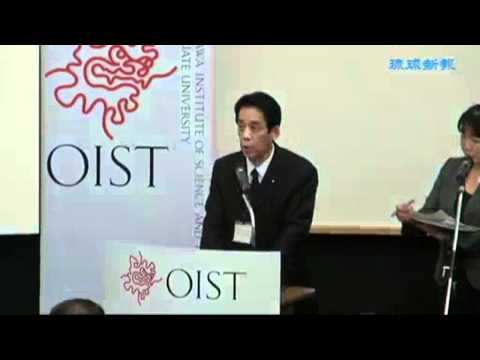 Go To Video
Previous Article:
OPG to set up an explanation board about the former 32nd Army Headquarters Shelter at Shuri
Next Article:
"Moving Marines to Australia is a smart move," suggests the former U.S. Assistant Secretary of Defense Prof. Nye
[Similar Articles
]