Shelter built by students for the Japanese Imperial Army during the Battle of Okinawa to be exhibited
June 3, 2014 Ami Chibana of Ryukyu Shimpo
On the site of Shurijo Castle Park in the Tonokura district of Shuri, Naha, lies Ryukon Go Cave, built by male students of the Okinawa Teacher's School during the Battle of Okinawa.
The park administration office plans to preserve the cave.
It was completed by the students around March 1945, just before the U.S. military landed on the main Island of Okinawa. After they landed, the students used the hideout to contribute to the war effort on behalf of the Japanese Imperial Army. In a section of the cave, the local wartime newspaper Okinawa Shimpo was published.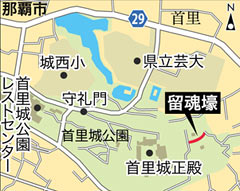 Citizens are not normally allowed to enter the cave, located at the back of the main temple of the castle.
The office plans to open the cave to the public, along with Ryukyuan dynasty remains found nearby in 2018. By using the cave, park administrators aim to tell the story of the Battle of Okinawa.
Staff member Hiroshi Chinen said, "Although we cannot allow people to enter the cave because of the danger of rocks falling, we would like to allow them to view it from outside."
The office asked the Okinawa Prefectural Archaeological Center to survey an area which includes the cave as part of the survey for restoration and maintenance of the castle from the fiscal 2012 to 2013.
Before the survey, two of three cave entrances were buried in the soil.
Tsutomu Arakaki of the center said, "We continued to excavate the west entrance to find a cavity, which is 1,000 square meters. Contrary to the testimonies on the cave, it has several rooms."
Glossary: Ryukon Go Cave
The cave is located at the site of the Okinawa Prefectural University of Arts. Male students of the Okinawa Teacher's School excavated it just before the Battle of Okinawa. It has three entrances. The cave is 1.8 meters tall, 2 meters wide and about 30 meters in depth. The total length of the tunnel in the cave is about 100 meters. One section was used as the wartime headquarters for Okinawa Shimpo publications.
(English translation by T&CT)
Previous Article:
Eight pigs run away on national highway
Next Article:
Flights between Naha and Chengdu to start in July
[Similar Articles
]