Mid-Autumn Feast from Ryukyu Dynasty revived
September 22, 2013 Ryukyu Shimpo
On September 21 and 22, the Mid-Autumn Feast held during the Ryukyu Dynasty was held in the Una forecourt of Shurijo Castle Park in Naha. On the opening day, four masters of the traditional performing arts who have the status of Living National Treasure of Japan appeared on the stage. They performed in front of the now-repaired pillars in front of the Seiden (State Hall). The scene was as though a feast to welcome envoys of the Emperor of the Chinese Dynasty was being held in the modern world.
Three masters Tokutaro Shiroma, Choichi Terukina and Kishun Nishie performed Akatafu-bushi, Niagishukwe-bushi and Niaginakafu-bushi with chanting and accompanied by the sanshin. Living national treasure Noho Miyagi performed the traditional dance Karaya, at the moonlight banquet, to a sanshin accompaniment and chanting by Terukina and Nishie. The audience was enthralled by the exquisite skill of their performance.
On the last day, kumi-odori traditional Okinawan musicals and ryubu traditional dance were performed. Selection was also carried out for the "King" and "Queen" to appear in the Shuri Castle Festival in October.
(English translation by T&CT, Mark Ealey)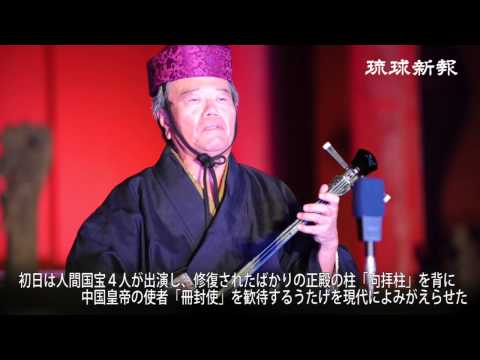 Go To Video
Previous Article:
Okinawan and Sri Lankan students meet on Tokashiki
Next Article:
New "king and queen" selected at Shurijo Castle Park event
[Similar Articles
]