Mid-Autumn Celebration held at Shurijo Castle Park
September 11, 2011 Ryukyu Shimpo
On a moonlit night on September 10, the 18th Shurijo Castle Park Mid-Autumn Celebration (organized by the Okinawa Commemorative National Government Park) was held at Shurijo Castle Park in Naha City.
On the special stage lit up in the Una Forecourt in front of the Seiden State Hall, glamorous Ryukyuan dance and music said to be the same as that used to entertain envoys from China during the era of the Ryukyu Dynasty was performed. Ryukyuan dance songs such as Kajadefu and Nubui Kuduchi were performed by Miyagi Honryu Otori No Kai on the opening day of the celebration. Music and dance performances by Kishun Nishie, who was designated as a Living National Treasure earlier this year, as well as Tokutaro Shiroma and Noho Miyagi, entertained the many tourists who came to watch.
On September 11, the Kumiodori play, Nidoutichiuchi, was performed by Kinjoseiichi Kumiodori Kai and a contest was held to select the king and queen who will participate in the events of Shurijo Castle Park this year.
(English Translation by T&CT, Mark Ealey)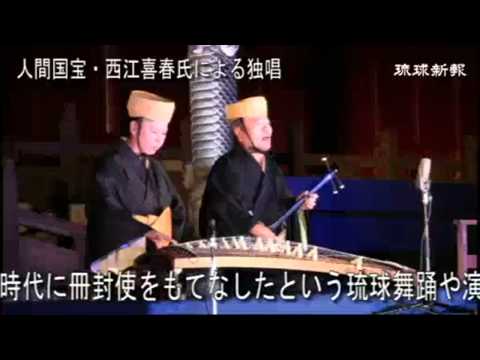 Go To Video
Previous Article:
Eclair-like sea cucumbers found in waters near Okinawa, but "the taste is far from the sweet"
Next Article:
U.S. Marine Corp has intensified its training in Okinawa in preparation for combat
[Similar Articles
]