Archive for September, 2013
Recent News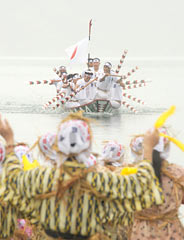 August 26, 2012 Ryukyu Shimpo
The Unjami Festival was held in Shioya Bay and other areas of Ogimi on August 25. Designated as one of Japan's significant intangible folk cultural assets, the event features the Ugan Barley dragon boat race and Okinawan shaman or kaminchu praying for good health and a bountiful catch.
Undeterred by pouring rain, many people took part in the festival.
The Unjami Festival is held every year in the seventh...