Kerama Islands to be designated as a national park
July 3, 2013 Ryukyu Shimpo
Before the end of 2013, the Ministry of the Environment will designate the coast of the Kerama Islands as a national park. Environment Minister Nobuteru Ishihara announced this at a press conference on July 2. Famous for their precious coral reefs, the Kerama Islands have very clear water at shallow depths, serve as habitat for a high concentration of about 250 species of coral, and are a breeding ground for humpback whales. They will become the 31st national park in Japan, and the first in 26 years since the Kushiro Marsh in Hokkaido in 1987. This May, in an attempt to restore the region devastated by the Great East Japan Earthquake, the Ministry reorganized the Rikuchu Kaigan National Park and other areas into the Sanriku Fukko National Park.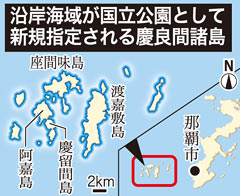 This August the Ministry will accept public comment on the national park designation. The members of an advisory body to the Environment Minister will visit the site in September in order to compile a report. The Ministry will then designate the Kerama Islands as a national park before the end of the 2013 fiscal year.
The Kerama Islands and the northern part of Okinawa Island coastal areas make up the Okinawa Coast National Park. The Ministry will designate the shallow area in which coral reefs live in high density as the sea park area and rest as the general area. Coral fishing, processing and sales will be regulated in the park area.
The Kerama Islands will be the second location for a national park in Okinawa, following the area extending over the waters and islands around Iriomote and Ishigaki Island, which were designated as the Iriomote Ishigaki National Park in 1972.
(English translation by T&CT, Mark Ealey)
Previous Article:
54th anniversary memorial ceremony of U.S. military jet crash onto Miyamori Elementary School
Next Article:
More MV-22s coming to Okinawa in early August
[Similar Articles
]