54th anniversary memorial ceremony of U.S. military jet crash onto Miyamori Elementary School
July 1, 2013 Ryukyu Shimpo
Fifty-four years have passed since June 30, 1959, when a U.S. F-100 fighter from Kadena Air Base crashed into Miyamori Elementary School in Ishikawa City (currently Uruma City). The Ishikawa and Miyamori 630 Association held the 54th anniversary memorial ceremony on June 30 at the school. Participants paid their respects to the 18 victims.
About 350 bereaved family members, people who were pupils at time of the crash, with their children and grandchildren and local residents attended. They said, "We will not let the tragedy happen again."
The participants offered floral tributes to Nakayoshi-Jizo or Good Friend-Jizo (the protector of deceased children). The statue has the names of the 18 victims, including locals and pupils inscribed on it. At 10:40 a.m., the time that the military jet crashed, they offered silent prayers while the peace bell was ringing.
Mitsuteru Toyohama, the head of the association said, "The crash was an extension of the Battle of Okinawa. Why did they have to die 14 years after the war?" Toyohama said, "While the U.S.‐Japan Security Treaty protects the people in the main Islands of Japan, the Okinawan people do their best to protect themselves from U.S. military bases concentrated in the prefecture under the treaty." He claimed that it is an ongoing contradiction since 1945 when the war ended.
Toyohama said, "We must not create a society that sacrifices children."
Uruma Mayor Toshio Shimabukuro said, "The existence of the bases continues to put Okinawan people in danger. We must never allow such accidents to happen again."
(English translation by T&CT, Mark Ealey)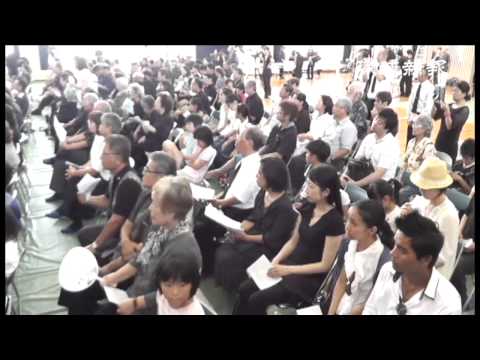 Go To Video
Previous Article:
Takae resident loses High Court battle
Next Article:
Kerama Islands to be designated as a national park
[Similar Articles
]