Yokozuna Harumafuji starts training camp in Tomigusuku
February 21, 2013 Ryukyu Shimpo
On February 20, Yokozuna Harumafuji and Aminishiki, sumo wrestlers who belong to the Isegahama stable, started training in the grounds of Toyomi Elementary School in Tomigusuku. Harumafuji, who was undefeated in the January Tournament said, "I will practice hard to go through undefeated in the next tournament."
He talked about his impressions of Okinawa, saying that it's warmer than Tokyo and that the children have energized him. "It's not just practice. I would like to meet as many Okinawan people as possible," said Harumafuji with a smile.
Wrestlers practiced sparring and other training methods for about two hours as children of the Toyomi Elementary School watched. Harumafuji signed autographs for fans and agreed to have take photographs taken with them.
The wrestlers of the stable came to Okinawa on February 19 for the training camp, which will run until February 23. In addition to training, there will be time to interact with pupils of the school and to visit welfare facilities.
(English translation by T&CT, Lima Tokumori and Mark Ealey)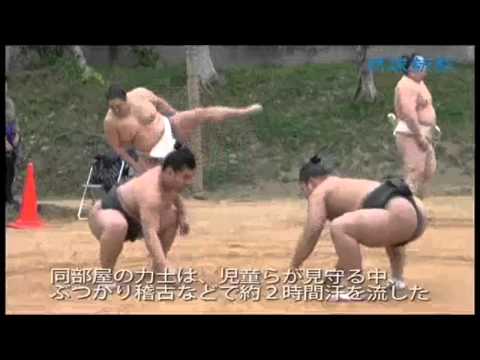 Go To Video
Previous Article:
Human remains and ornaments found in a burial urn possibly confirm tomb
Next Article:
Community members pray for good harvest at Ueda Ugan
[Similar Articles
]