Community members pray for good harvest at Ueda Ugan
February 22, 2013 Ryukyu Shimpo
On February 21, at the Ukinju hainju in Hyakuna, Nanjo in Tamagusuku, the Ueda Ugan was held. It is a traditional ceremony in the Nakandakari district, in which people plant rice and pray for a good harvest. The place was known to be a center of rice cultivation for the Ryukyus.
The ceremony is held on the first day of the Ox after the lunar New Year. After praying at a sacred place called Meji known to be where a crane that had flown from China dropped ears of rice, people moved to Ueda's rice fields at the Ukinju hainju. Three men from the community planted rice.
This year, pupils from Hyakuna Elementary School visited to observe the ceremony for the first time. With other people from the community the children clasped their hands in prayer.
Shinji Shiroma, who planted rice for the first time said, "This is very precious experience for me. I am prepared to take the lead in continuing this traditional ceremony."
(English translation by T&CT, Megumi Chibana and Mark Ealey)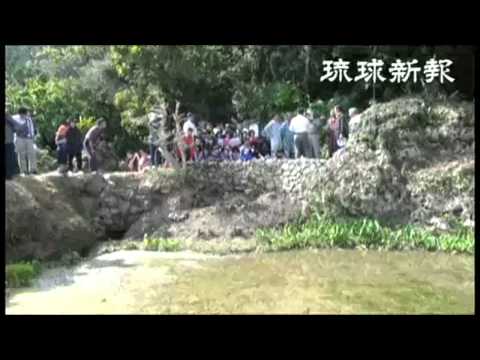 Go To Video
Previous Article:
Yokozuna Harumafuji starts training camp in Tomigusuku
Next Article:
Residents patrol Yambaru forest
[Similar Articles
]