Kinoshita Circus commences in Toyosaki Town
December 2, 2012 Ryukyu Shimpo
On December 1, commemorating the 120th anniversary of the establishment of the Ryukyu Shimpo, at a special venue in Toyosaki in Tomigusuku, the Kinoshita Circus performed for the first time in eight years since it was last held in the new commercial district of Naha in 2004. On the opening day, there were long lines of people who had been looking forward to the performance, and the venue was crowded with family groups. Two performances were held following the opening ceremony, and both were full to capacity, with about 4000 people packing into the venue on the first day.
The spectators were captivated by the show with its thrills, excitement and comedy, enjoying the fantastic atmosphere that the circus created.
Performances will be held until February 3 next year, but not on December 31, January 9 and on Thursdays (except Thursday, January 3).
For further information, telephone the information desk for the Kinoshita Circus in the Ryukyu Shimpo on 098 851 0900.
(English translation by T&CT, Mark Ealey)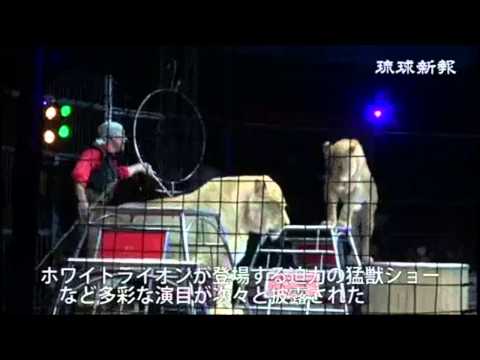 Go To Video
Previous Article:
Pair of Yambaru kuina found in Ogimi for the first time in 12 years
Next Article:
Residents around Kadena Air Base sue the U.S. government
[Similar Articles
]