Kinoshita Circus to perform in Okinawa
November 24, 2012 Ryukyu Shimpo
To help commemorate the 120th anniversary of the establishment of the Ryukyu Shimpo the Kinoshita Circus will begin performances in Okinawa from December 1 at a special venue set up in Toyosaki Town in Tomigusuku City. Some of the circus staff arrived in Okinawa on November 23, and about 100 of the circus troupe worked up a sweat as they set up the tent site in preparation for the show.
After leaving Ariake Port in Tokyo on the evening of November 20, part of the troupe arrived at Naha Port more than two days later, at around 4:00pm, on November 22. The circus transported many animals to Okinawa, including 11 lions (including four white lions), one giraffe, two elephants, and two pony horses. The giraffe was transported in a six meter-high container, allowing the animal to assume a natural posture with its neck fully extended.
At the venue in Tomigusuku, the animals seemed relaxed after their long voyage. John Illig, whose career as a lion trainer goes back 35 years said, "I want people to come to see the purebred white lions. There are now only 300 of these in the world."
Tadashi Kinoshita, the president of the circus, told, "We performed in Okinawa eight years ago, but I want many people to enjoy this new-generation circus. The performance has changed in many ways from the last time we were here."
From December 1 until February 3, 2013, the Kinoshita Circus will showcase its animals, a flying trapeze and many other performances.
For further information, telephone the desk for the Kinoshita Circus in the Ryukyu Shimpo, 098 869 5311.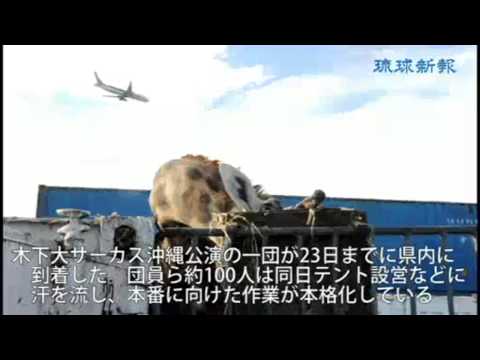 Go To Video
Previous Article:
Dolphin fish dried in preparation for winter
Next Article:
Member of the U.S. military belonging to Futenma Air Station deserts
[Similar Articles
]