Yoshimatsu wins Miss International crown
October 22, 2012 Ryukyu Shimpo
On October 21, the final of the 52nd Miss International was held at the Budokan in Naha. Ikumi Yoshimatsu, 25, from Saga Prefecture, won Miss International 2012, ahead of 68 other beauty contest candidates from 80 countries and regions. This was the first time that Miss Japan has been chosen as Miss International, and with this Yoshimatsu became the "goodwill ambassador of beauty and peace." She also won the Miss Photogenic award decided by a vote among members of the media.
Miss Finland, Viivi Suominen, 25, came second and Miss Sri Lanka, Madusha Mayadunne, 25, came third. Miss Haiti, Anedie Azael, 24, won the Miss JOICEF award for putting forward the best idea and concept for charity.
After the event, Yoshimatsu said, "I did not think that I would be able to win against Westerners who excel in terms of body shape, and so, all I could do was try to make the most of the good things about me to win, and so I focused on what I said. Women are going to be the opinion leaders of the next generation, so I talked about myself and what kind of activities I like."
The beauty contest candidates came to Okinawa on October 1 and experienced aspects of Okinawan history and culture, interacting with people in the local community as they lived together. This event was held in Okinawa for the first time in 37 years since 1975, when Miss International held as part of the Okinawa Ocean Exposition, and on this occasion it was held to commemorate the 40th anniversary of Okinawa's reversion to Japanese sovereignty. The organizers stated that as many as 2700 people packed the venue to watch the final.
(English translation by T&CT, Mark Ealey)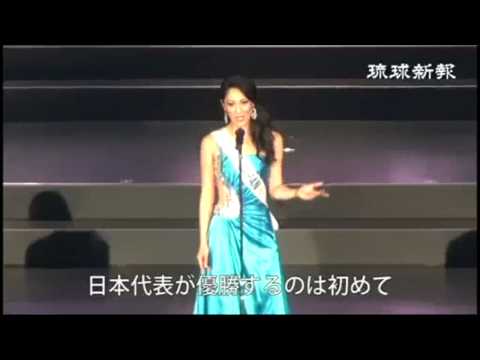 Go To Video
Previous Article:
Spectacular parade at Yaese for full moon festival
Next Article:
Human bones and stone tools dating back 12000 years found in Nanjo
[Similar Articles
]