Osprey aircraft flight paths continue to violate safety agreement
October 16, 2012 Ryukyu Shimpo
For two and a half hours in the afternoon of October 15, two MV-22s flew a total of 12 times over densely populated areas such as Naha and Urasoe in the southern and central regions of Okinawa. By October 6, the U.S. Marine Corps completed the deployment to Futenma Air Station from Iwakuni in Yamaguchi Prefecture of 12 MV-22 Osprey vertical take-off and landing transport aircraft.
The Osprey's flight over urban areas in helicopter mode and the convertible mode is restricted under the agreement of the Joint Committee, but has been confirmed as occurring numerous times. The Marine Corps has continued its MV-22's flight operations despite their violating the agreement. Some residents also saw the MV-22s' flight training for the first time, taking off from Futenma Air Station and flying towards the western coast and then back to Kadena Air Base.
The flight path confirmed this time was that the aircraft took off from Futenma Air Station towards Kitanakagusuku, and then flew along the coast and offshore in the south, finally coming back to Futenma over the cities of Naha and Urasoe. In addition, the flight path in the direction of Kadena Air Base has been confirmed as the aircraft passing over the Kadena Ammunition Depot towards the west coast, then entering Kadena Air Base again before heading towards Uruma and returning to Futenma Air Station from Kitanakagusuku. Above the Naha area, the Osprey aircraft was confirmed to have flown in helicopter mode or the conversion mode every five to ten minutes. Okinawa Prefectural Government officials have received flight information from residents of Naha, Urasoe and Ginowan. Flights in the conversion mode were observed above Naha and Urasoe, and flights in both helicopter mode and conversion mode were also confirmed in the airspace above Ginowan.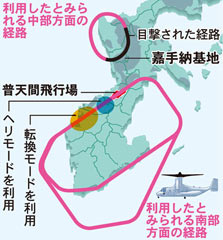 Takeshi Tokashiki, an associate professor of the University of the Ryukyus, has conducted noise surveys, and at around 12:00pm on October 15, on a rooftop deck of Futenma No 2. Elementary School building he measured the low-frequency sound caused by the Osprey operations. The asset value of the low-frequency noise was higher than the reference value in the environmental impact assessment created for the relocation of the Futenma base to Henoko in Nago. On October 15, a member of the Council for Promotion of Dezoning and Reutilization of Military Land in Okinawa asked Col. David DeTata, director of the Okinawa Area Field Office, U.S. Forces Japan, to withdraw the Osprey aircraft. According to Takeshi Gibu, the mayor of the Kin Town and other members of the council who met Col. David DeTata, the director stated that they were doing their utmost to limit the aircraft from flying above densely populated areas. Gibu said, "There are too many differences in the expectations of the local residents and the U.S. forces. We really should be getting more angry about this."
(English translation by T&CT, Mark Ealey)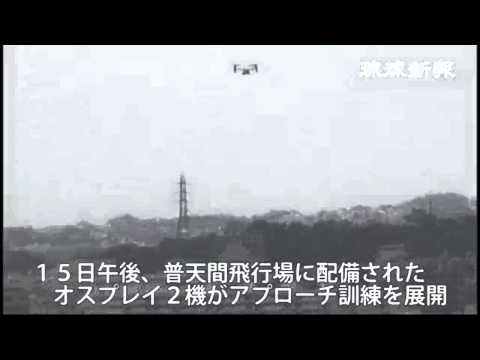 Go To Video
Previous Article:
Traditional sabani manufacturing process replicated for future generations
Next Article:
Saving "Manhole Children" in Mongolia
[Similar Articles
]