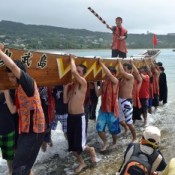 June 26, 2012 Ryukyu Shimpo
On June 23, in the waters off Ojima Island, Tamagusuku in Nanjo, the Watatsumi Festival with its dragon-boat race was held. Many visitors from both on and off the island cheered on the oarsmen.
The main dragon boat race is decided by the outcome of the best...