Yonaha Bay becomes Ramsar site
July 4, 2012 Ryukyu Shimpo
Ahead of the 15th meeting of the signatory countries to be held in Bucharest, Romania, commencing on July 6, the Ramsar Convention on Wetlands has added new areas to its list, including Yonaha Bay in Miyako-jima. The Convention on Wetlands, otherwise known as the Ramsar Convention, which was held in Ramsar, Iran in 1971, is an intergovernmental treaty embodying the commitments of its member countries to maintain the ecological character of their Wetlands of International Importance and to plan for the sustainable use of all of the wetlands in their territories. Its secretariat is located in Geneva, Switzerland. Yonaha Bay became the fifth Ramsar site in Okinawa following Manko in Tomigusuku, the Kerama-shoto Coral Reef and Nagura-Ampuru on Ishigaki, streams on Kume-jima.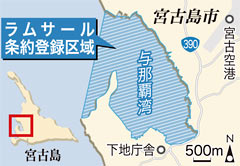 Made up mainly of three different types of seagrass, the site supports one of the most extensive seaweed beds in the Ryukyu Islands biogeographic region. A significant number of waterbird species, including the critically endangered spoon-billed sandpiper, the black-faced spoonbill, and Saunders's gull, and the Far Eastern curlew, stop at the site to forage or breed.
According to the list of animals and birds compiled by the Ministry of the Environment, 123 species of birds live on the site. In November 2011, the Japanese government designated Yonaha Bay as a Special Protection Zone.
Miyako-jima mayor Toshihiko Shimoji will attend the ceremony in Bucharest on July 7 and to commemorate this, the Okinawa Prefectural Government will hold a symposium on August 4.
People involved were very pleased that Yonaha Bay has been officially added to the list of Ramsar sites. Shimoji said, "I think that the entire natural environment of Miyako was thought to be marvelous. We hope that the site attracts many birds every year." In future, the Miyako municipal authorities are considering constructing facilities for bird watchers.
Kunihiro Nakachi, head of the Miyako Wild Bird Association, said, "I think that this achievement will stimulate the people of Miyako to pay greater attention to their natural environment. I hope that they all start to think about helping to protect the site." Nakachi went on to say, "I am thinking of increasing opportunities for people to watch wild birds in future."
With its registration in the international treaty, Yonaha Bay is expected to see an increase in tourists. Takamori Ikema, the executive director of Miyako Tourist Association, was delighted at the development, saying, "It may help to enhance the image of Miyako in terms of the Declaration of Eco Island Miyako-jima, and may help the tourism industry here. It might help to attract attention to Miyako-jima."
(English translation by T&CT, Mark Ealey)
Previous Article:
East team wins Ojima Island's dragon boat race
Next Article:
Cargo ship carrying Osprey aircraft departs U.S. port for Iwakuni
[Similar Articles
]