Passersby rescue stray loggerhead turtle on road
May 22, 2012 Ryukyu Shimpo
After 5:00am on May 21, on the road at Hentona in Kunigami, a driver on Route 58 found a loggerhead turtle, which is designated as an endangered species. In the brisk hours of the early morning, passersby and police officers cooperated to get the turtle back to the beach.
May to July is the laying season for loggerhead sea turtles, and it seems that this turtle also came ashore to lay eggs, but she wandered onto the road in the process of searching for a good site.
The length of the turtle was 85.4 centimeters (33.6 inches) and it weighed about 90 kilograms (198.4 pounds). Muneyuki Kayo, a member of the Sea Turtle Association of Japan who happened to be researching the egg-laying of sea turtles at location nearby, and some others, guided the turtle onto the sidewalk. From there, they lifted her up and carried her to the beach where before 6:00am, surrounded by a crowd of more than ten people, she made way back into the sea.
Kayo said, "Looking at the tracks behind her, the turtle had crossed the main road, so it is lucky that she didn't get hit by a car. The person who discovered her saved her by reporting her to the police and passersby stopped to watch her being rescued. I hope that many people understand that these turtles come quite close to the main road to lay their eggs."

(English translation by T&CT, Lima Tokumori and Mark Ealey)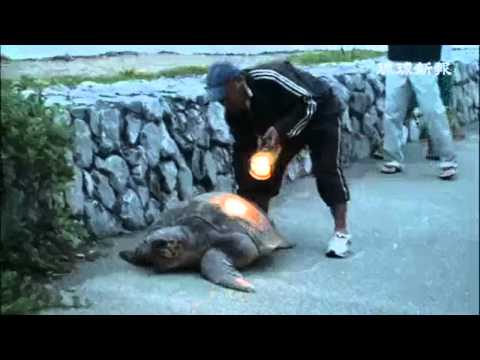 Go To Video
Previous Article:
Model designed for the redevelopment of land occupied by Futenma Air Station
Next Article:
Big catch of banana fish
[Similar Articles
]