Okinawa International Movie Festival Opens – 350 movie stars and artists walk on the red carpet
March 25, 2012 Ryukyu Shimpo
On March 24, the 4th Okinawa International Movie Festival commenced at Ginowan and other places around Okinawa. About 350 movie stars and artists, including a comedy duo from Okinawa and popular comedians from the main islands of Japan, walked on the 300-meter long red carpet set up around Ginowan Tropical Beach prior to the opening ceremony. The festival is showcasing a total of 102 features from 15 countries and regions. At the main venue, a film display began using the world's largest mobile outdoor screen, which was installed for the first time in East Asia. The film and talk show started at Sakurazaka Theater in Naha.
Comedian Koji Imada, comedy duo Slim Club and Garage Sale from Okinawa appeared on the red carpet. Many fans converged on the carpet calling out the names of the celebrities. The comedians responded in a relaxed and friendly manner by shaking people's hands and giving signatures. Shinya Akamine, a 12 year-old from Tomigusuku, who came with his mother, said with a smile, "It was fun to meet Mr. Imada."
On March 25, a fashion show was included in the Okinawa International Movie Festival for the first time. Popular models such as Anna Tsuchiya and entertainers gathered at the fashion show and the musical performance. The feature comedy movie Hi-Zai directed by Shuhei Fukunaga, who is from Okinawa, was also screened.
(English translation by T&CT, Mark Ealey)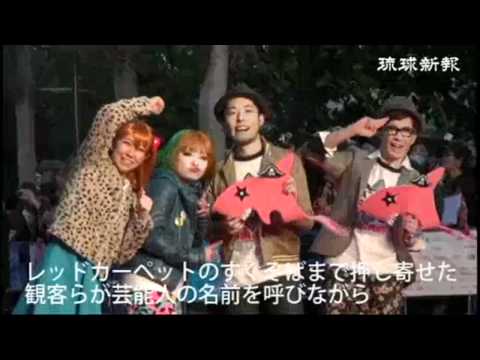 Go To Video
Previous Article:
Diesel fuel leaks out of underground tank in Kadena Ammunition Depot
Next Article:
New PHS product featuring traditional Ryukyuan culture
[Similar Articles
]