Black-faced Spoonbills enjoy sunbathing at Tomigusuku.
February 15, 2012 Photograph by Hiroaki Yamashiro
A high-pressure zone over the Okinawa region on February 14 brought blue skies and a summer-like day. A temperature of 26.5 degrees was recorded at Hateruma and on the Iriomote Islands, and in Naha it was 25 degrees, the sort of temperatures normally experienced in late April.
In the flood-control basin of Yone, Tomigusuku, ten black-faced spoonbills, an endangered species that had flown in during the winter, rested their wings as they bathed in the sunshine and pecked away looking for food.
According to the Okinawa Meteorological Observatory, over the coming week clouds will spread due to a trough of low-pressure, which will cause temperatures to drop, bringing rain in some areas.
(English translation by T&CT, Mark Ealey)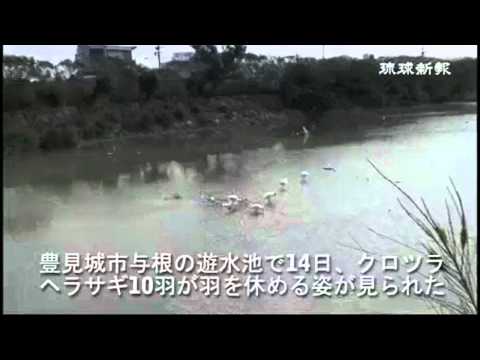 Go To Video
Previous Article:
Defense Minister denies that Futenma Air Station will become a permanent fixture
Next Article:
Barrier-free wedding plan proposed by hotel in Ginoza
[Similar Articles
]