Defense Minister denies that Futenma Air Station will become a permanent fixture
February 19, 2012 Ryukyu Shimpo
In the afternoon of February 18, Defense Minister Naoki Tanaka visited the Second Futenma Elementary School, which is located adjacent to U.S. Marine Corps Air Station Futenma. In response to principal Harumi Chinen's request that something be done to remove the dangers that Futenma Air Station poses, Tanaka stated, "The air station will definitely not be allowed to become a permanent fixture here." Defense Minister Tanaka, who was making his second visit to Okinawa since taking up office, met Okinawa Governor Hirokazu Nakaima at the Okinawa Prefectural Government Office late in the afternoon of that same day to discuss issues regarding the return and relocation of Futenma Air Station. Tanaka reported that the government has begun consultations to review the 2006 Japan-U.S. accord on the realignment of U.S. forces in Japan, stating, "It is a priority for the central government to reduce the burden on Okinawa as soon as possible, but at the same time maintain deterrence." On the basis that the Japanese and U.S. governments have decided to uncouple the issue of the relocation of Futenma Air Station from that of the transfer of the Marines in Okinawa to Guam, Nakaima stated, "This base just cannot be left its present location. We want it moved as soon as possible."
After the meeting, Nakaima said, "The central government is determined to relocate the base to Henoko in Nago, but I want the minister to understand that that will be extremely difficult." Nakaima reiterated his views on the current relocation plan, but he did not repeat his request for the relocation of the base out of Okinawa, stating that, "The opportunity to say that did not arise today."
The meeting lasted 25 minutes and was held behind closed doors except for the opening remarks. Although the Ministry of Defense explained about the review of the realignment of U.S. forces in Japan, they did not go as far as to mention specific details, such as the schedule for the return of military facilities and land occupied by the U.S. military south of the U.S. Air Force's Kadena base. They also did not mention how they would deal with Okinawa Defense Bureau chief Ro Manabe, who drew up a list of bureau employees and their relatives living in Ginowan ahead of the mayoral election in the city and lectured his staff, calling for them to vote.
After the meeting, Tanaka talked to the press, saying, "I said that the central government will not allow Futenma Air Station to become a permanent fixture." On that basis, he asserted that there would be no change in the policy with regard to the current relocation plan, saying, "The Japanese and the U.S. governments intend to implement the Japan-U.S. accord on the premise that the relocation of Futenma Air Station to Henoko is the best course of action."
With regard to reviewing the realignment of U.S. forces in Japan, Nakaima said, "Although we appreciate the central government's efforts to begin consultation on this, we would like to see some tangible results. They have not provided us with any clear results regarding the reduction of noise generated by U.S. military aircraft, so I will be looking closely to see what actually comes of this."
Tanaka met Chinen and the new Ginowan mayor Atsushi Sakima at the Second Futenma Elementary School.
(English translation by T&CT, Mark Ealey)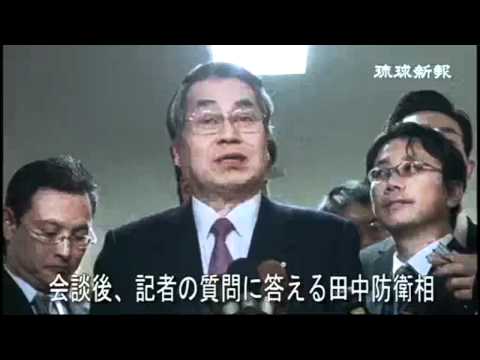 Go To Video
Previous Article:
Commander of Camp Kinser apologizes to Urasoe Mayor for soldiers training with firearms in a prohibited area
Next Article:
Black-faced Spoonbills enjoy sunbathing at Tomigusuku.
[Similar Articles
]