Nine baseball teams start spring training camps in Okinawa
February 2, 2012 Ryukyu Shimpo
On February 1, professional baseball spring training camps started in Okinawa and Miyazaki prefectures. Twelve baseball teams train throughout the month, aiming to improve prepare for games on March 30, the day that both the Central League and the Pacific League commence.
In Okinawa, nine teams began their training. The Chunichi Dragons which aims its third consecutive victory in the leagues (Chatan), a new baseball team the Yokohama DeNA Baystars (Ginowan), the Hanshin Tigers (Ginoza) and the Hokkaido Nippon-Ham Fighters (Nago), each team met their new managers and made a start to the season. Players from Okinawa, Shota Ishimine of the Chiba Lotte Marines (Ishigaki) and Wataru Hiyane of the Tokyo Yakult Swallows (Urasoe) started in their respective team's first team camp.
At each baseball park, many visitors watched for players practicing. Before the Hiroshima Toyo Carp (Okinawa) started training, the FC Ryukyu of Japan Football League wished them well. The Tohoku Rakuten Golden Eagles (Kumejima) did their early-morning workout from 7:00am. At the training of the Orix Buffaloes (Miyakojima), Lee Dae-Ho, the former Triple Crown winner attracted a great deal of attention.
(English translation by T&CT, Lima Tokumori and Mark Ealey)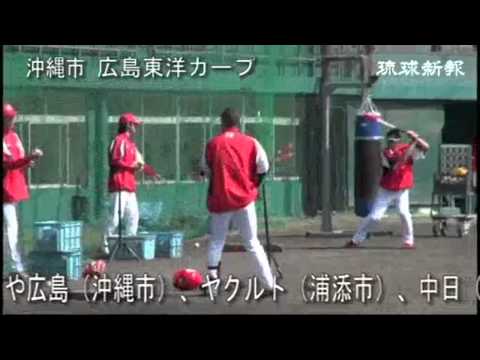 Go To Video
Previous Article:
Marine Corps plans to deploy Osprey aircraft to several U.S. military facilities in Okinawa
Next Article:
Booklet about Okinawan immigrants published
[Similar Articles
]