World's Longest Ishigaki Kebab created to mark New Ishigaki Airport
November 28, 2011 Ryukyu Shimpo
On November 27, at the site of the planned construction of the New Ishigaki Airport in Shiraho, Ishigaki, the city held the "Ishigaki Beef BBQ Festival" and set a new Guinness World Record for the longest kebab-style BBQ. The kebab was measured at 107.6 meters, breaking the previous record set in Lebanon of 97.5 meters by 10.1 meters.
As many as 15000 people participated in the event designed to promote Ishigaki Beef and to look ahead to the opening of the New Ishigaki Airport in 2013. A total of 1710 people cooperated to break the Guinness World Record. Starting by threading five-centimeter cubes of Ishigaki Beef onto a skewer, people worked together to then put the skewer on the grill and turn it over.
The iron skewer broke twice, but they welded it back together and pressed on. The attempt to break the record only finished when they finished eating all of the grilled meat, and it took about five hours until to achieve their objective.
(English translation by T&CT, Megumi Chibana and Mark Ealey)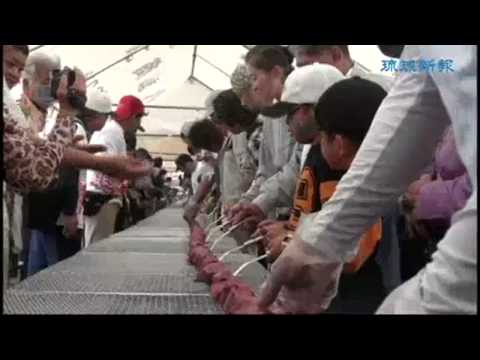 Go To Video1
Previous Article:
Prefectural Department of Culture, Tourism and Sports sets up an information site on the islands off Okinawa
Next Article:
Novel "The Tempest" turned into a 3D movie
[Similar Articles
]