Itoman tug-of-war held to pray for abundance and fertility
September 13, 2011 Ryukyu Shimpo
 
On August 15 in the old lunar calendar or September 12 in the modern calendar, harvest festivals to pray for a good year were held throughout the prefecture. In the Itoman district of Itoman City, Itoman Ozunahiki, one of the three grand tugs-of-war in the prefecture, in which the participants prayed for a good harvest was held in style.
From the morning, National Highway No. 331, where the tug-of-war was held, was closed to traffic. According to an announcement by the organizer, a total of about 30000 people participated in the event.
The tug-of-war began at 6.00pm, and after the 30-minute time limit, the Northern team was the winner, pulling the rope two meters and sixty centimeters in their direction. The North has now recorded 33 wins, 28 losses and four draws since 1947.
(English Translation by T&CT, Mark Ealey)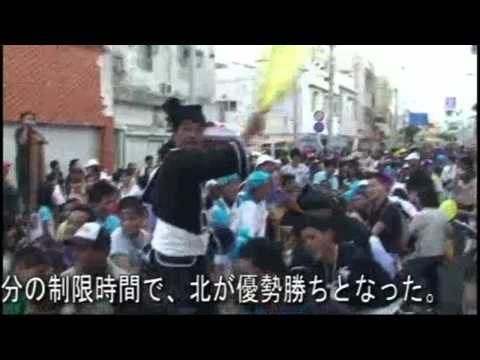 Go To Video
Previous Article:
Okinawa Governor travels to the United States to demand the relocation of Futenma Air Station out of the prefecture
Next Article:
<Respect for the Aged Day>Ninety year-old Oshiro has lived with kasuri splash-pattern textile in a straight line for 77 years
[Similar Articles
]