The Yonabaru Great Tug-of-War, a prayer for quake-hit areas
August 1, Ryukyu Shimpo
The Yonabaru Great Tug-of-War, one of Okinawa's three largest tug-of-war events, has a history going back more than 400 years in the prefecture. This year's event, in which the east side of the town pulled against the west side, was held at the Udun-yama Youth Square in Yonabaru Town on July 31.
The rope weighed about 4500 kilograms and was about 80 meters long, ten meters shorter than usual because of the lack of straw due to Typhoon No.2.
The two teams pulled as hard as they could against each other.
According to the event organizer, about 15000 visitors from both within and outside the town enjoyed a grandstand finish.
Both sides had their own shitaku – a costumed person who stands on the rope – as they made their way to the square. This year the shitaku of the east side was dressed as oyake akahachi, a Ryukyuan local chief (aji) of Ishigaki Island who rebelled against the Okinawan authorities in 1500 and that of the west side wore the costume of Ozato aji, a ruler of the Ozato area back in the days of the Ryukyu Dynasty.
When both sides arrived at the square, the members of chinamushi, or rope carriers, who were worked up ready to go in the tug-of-war, and members of the public who also took part in the event, gave a morale-boosting rally call of "Ei, Ei, Oh!"
Both sides started pulling against each other after the two sections of the gigantic rope (the male rope for the east side and the female rope for the west side) were linked by means of a three-meter wooden pole called a kanachi bar, immediately throwing up a cloud of dust.
When the west side pulled the east side towards them, gaining a slight advantage, the east side did its best to pull back. All of a sudden the male side of the rope on the east broke, automatically giving victory to the west side. The intense contest lasted a total of two minutes and 20 seconds.
It has been 30 years since the last time the rope broke. Fifty-year-old Tadashi Uehara, an adviser for the east side, said ruefully, "We made a good quality rope, but the number of participants has more than doubled in comparison with previous years, and they were so committed to the contest that the strain on the rope was just too much for it bear."
Every year, commemorative T-shirts are created for the tug-of-war events.
This year, to support people in the areas stricken by the Great East Japan Earthquake, the organizers of the event added the message, "Link the feelings of those people in the afflicted areas with ours, Chibariyo (Stick to it!), eastern Japan!"
Part of the profit from the event will be donated to the areas affected by the earthquake and tsunami.
(English Translation by T&CT, Mark Ealey)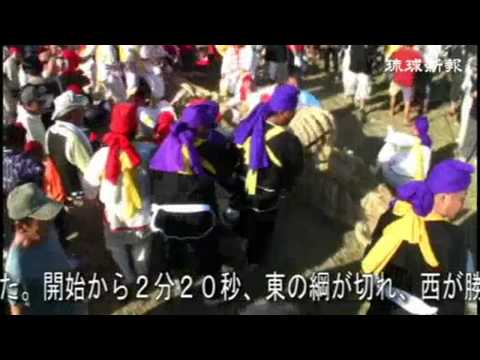 Go To Video
Previous Article:
U.S. military returns Gimbaru Training Area to the locals
Next Article:
Defense White Paper 2011 suggests that relocating Futenma outside of Okinawa will impair the functions of the U.S. Marine Corp
[Similar Articles
]