Statue of Ryukyu Uminchu to be erected in Taiwan
July 26, 2011 Ryukyu Shimpo
The association (Chairman Masajiro Nashiro) dedicated to the project is now working to erect a Ryukyu Uminchu (fishermen) statue at Keelung, Taiwan.
Since about 1905 Okinawan fishermen had a presence in Keelung, Taiwan, where they formed a community known as the "Ryukyu village." They actively interacted with the locals and it is said that they taught local fishermen their methods of catching marlin. Elderly residents still remember their feelings of gratitude towards the Okinawan fishermen.
On July 22, Hsu Guang-hui, professor at Taiwan Police College and a representative of the founders of the association to erect the Uminchu statue, visited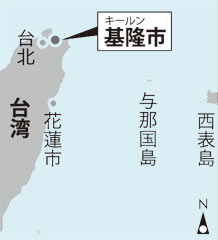 the Ryukyu Shimpo Office with his colleagues to introduce the association's activities.
According to Hsu Guang-hui, many fishermen moved from Okinawa during Japan's period of colonial rule over Taiwan following the Sino-Japanese War that ended in 1895, and it said that there were more than 500 Okinawan people living there in around 1921. As many as 3000 graves that have no one to tend them can be found in Wan Shan Gung and it is said that most of those people were from Okinawa.
One elderly gentleman said, "In those days, Okinawan fishermen helped Keelung to flourish. We had a good relationship." Local residents still provide the incense and flowers at the temple for the long deceased fishermen.
Hsu Guang-hui said, "An ever-increasing number of people among the younger generation do not know anything about the history of Okinawan fishermen. Building this statue will contribute to building a base of friendship from which to convey this aspect of our history to the next generation."
Daiya Miyazato, a member of the association board, and an extraordinary associate professor of Ryukyu University said, "We hope that the statue project will promote tourism for both sides."
The association will continue to collect contributions towards the cost of construction of the statue until December. Construction is due to be completed this month, but donations have not yet reached the target figure of 5 million yen. Secretary of the association, Satoshi Ishihara, called for assistance saying, "We want many people to understand the spirit of our project – that we will complete this statue as a symbol of the friendship between Taiwan and Okinawa."
Telephone inquiries should be directed to 098 (860) 5218.
(English Translation by T&CT, Mark Ealey)
Previous Article:
Deciphering the coral genome for the first time
Next Article:
Konishiki becomes cultural ambassador for Okinawa
[Similar Articles
]