Creating a cadastral map of Iwo-Tori-shima
July 9, 2011 Sadaharu Shimabukuro of Ryukyu Shimpo,Photograph by Yasuhide Matayoshi of Ryukyu Shimpo
July 29 marks 52 years since the entire population of Iwo-Tori-shima (formerly Gushikawa Village, currently Kumejima Town) were forced to leave the island due to a volcanic eruption.
Kumejima Town carried out a survey of the island on July 6 and 7 in order to create a cadastral map.
No cadastral maps or registry books currently exist for the island so, the town carried out the survey to create those documents. This is the first field survey conducted by the town in two years.
The Ministry of Defense (MOD) has announced that it is considering relocating the Tori-Shima range used by the U.S. military (Kumejima Town) to Iwo-Tori-shima.
A spokesperson for the town administration stated, "The survey had been scheduled before MOD's announcement. It has nothing to do with the relocation issue."
Mayor of Kumejima Town Choukou Taira clearly stated his opposition to the relocation, and there is growing opposition from the council and fishery cooperative of Amami-oshima island, which is close to Iwo-Tori-shima.
According to a spokesperson from Kumejima Town, by 2010 it came to own about 94% of the properties of the island with the remainder belonging to the Japanese government.
It is not clear exactly why there have been no registry books or cadastral maps created for the island, but it seems that this may be because of the disruptions caused by volcanic eruptions and wars.
The town conducted the survey by setting up airphoto signals, which are used when taking aerial photographs, in five locations on the island.
About Iwo-Tori-shima
A deserted island in the northernmost region of Okinawa, located 190 kilometers north-northeast of Naha and 65 kilometers west of Tokunoshima, Kagoshima Prefecture.
Comprising two conjoined volcanoes: Iwo-dake and Gusuku-dake, Iwo-Tori-shima is the only active volcano island in the prefecture of Okinawa. The island has seven kilometers of coastline with a total area of 2.5 square kilometers. It has been the source of sulfur since the time of the Ryukyu dynasty. People used to live on the island. Its northwest volcano erupted in June 1956, which caused the island's entire population to leave.
The most recent eruption was confirmed as occurring in July 1968.
(English Translation by T&CT, Mark Ealey)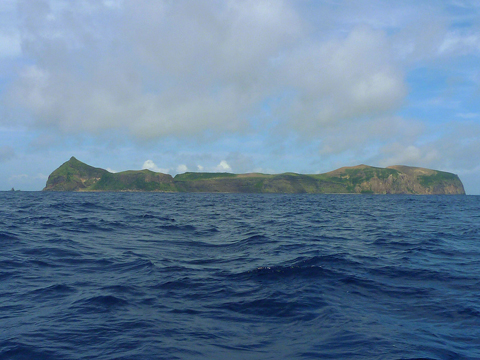 Slideshow of Iwo-Tori-shima




Previous Article:The first Chinese tourist group visits Okinawa on multiple-entry visas
Next Article:Okinawa Prefecture sets up information center for the remains of victims of the Battle of Okinawa

[Similar Articles]