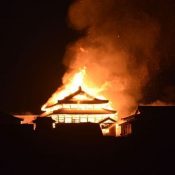 October 31, 2019 Ryukyu Shimpo
At dawn on October 31, the fire broke out at the main hall of Shuri Castle or Shuri-jo castle in Naha City, Okinawa.
At 2:41 a.m., the Naha City Fire Department received a call about the fire from a security guard at the castle.
As of 7 a.m., the...