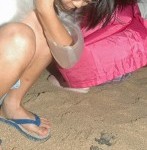 August 11, 2011 Ryukyu Shimpo
On the night of August 3, more than 100 loggerhead and green turtles hatched at the seaside near Ogimi Village. The baby turtles swam strongly out towards the sea, just as it became rough due to the approach of Typhoon No.9.
Many people came to observe,...