Marines parachute drop onto private land in Ie Village, sparking safety concerns for villagers
September 23, 2021 Ryukyu Shimpo
During parachute drop training at Iejima Auxiliary Airfield in Okinawa, two U.S. Marines landed on private land outside of the zone provided. On September 22, residents of Ie Village spoke out about their concerns that such an occurrence could lead to a serious incident such as human injury.
A woman in her 60s who lives near the airfield witnessed the drop training on September 21 and reported feeling uneasy about the altitude from which the training was being conducted. She mentioned her concern that "The crops could have been damaged."
In an interview with the Ryukyu Shimpo, Mayor Hideyuki Shimabukuro of Ie Village stressed that: "I think it is deplorable that accidents repeatedly occur despite the fact that, up to this point, we have requested training suspension during bad weather and thorough safety management."
On the evening of September 22 the members of the Ie Village Assembly went to observe the sites at which these Marines had landed. Masao Tokuji, chairman of the village assembly, said, "If this had been an emergency landing on a private residence or the like, it would be an outrageous story. It would immediately be protested." The plan is for Mayor Shimabukuro and Chairman Tokuji of the village assembly to pay a visit to the Okinawa Defense Bureau on September 24 in protest of these landings, and firmly request an investigation into the cause as well as recurrence prevention measures from the United States.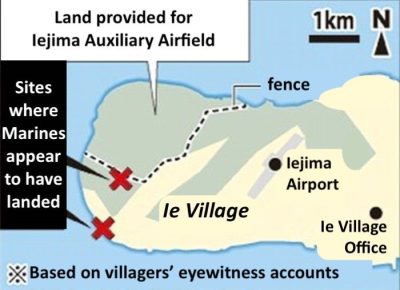 (English translation by T&CT and Erin Jones)
Previous Article:
"It's like Galaxy Express 999!" Bridge of light across the night sky over Ishigaki Island
Next Article:
Convertible explodes and catches fire in the ocean after getting stuck in a mudflat
[Similar Articles
]