OPG speculates Delta variant causing rise in infections among US military-associated persons
July 22, 2021 Ryukyu Shimpo
On July 21, the Okinawa Prefectural Epidemiological Statistics and Analysis Committee on the Novel Coronavirus announced its analysis of the infection status last week (July 12-18). In view of the current situation in which the number of infected persons among persons associated with the U.S. military bases in Okinawa has been rapidly increasing since the beginning of July, the committee made known its opinion that "It is speculated that the Delta variant (a mutation of the virus originating from India) is spreading among the U.S. military in Okinawa." Meanwhile, the U.S. military has informed the Okinawa prefectural government (OPG) that it will not being testing for the variant, and the actual state of the spread of the variant on the military bases is still unknown.
According to the OPG, when health institutions conduct follow-up surveys of infected persons, if someone with whom the infected person had close contact is associated with the U.S. military, the person associated with the U.S. military is categorized as a "friend/acquaintance," for example, because the individual cannot be specified.
Due to this, only one person offered the information "associated with the U.S. military" in a category pertaining to the estimated infection routes of persons infected with the novel coronavirus, which is announced daily by the OPG, on July 16 last year. Given that still, more than a year later, only one person has offered this information, actual circumstances are not reflected in the data. The Prefectural Chief Medical Officer Toru Itokazu explained that, "Examination [of the estimated infection routes] is ongoing without verification from the U.S. military."
The infection of a total of 121 people has been verified on U.S. military bases from July 1 to 21. A spokesperson from the Committee on the Novel Coronavirus mentioned that the Delta variant is prevalent in cases of contact history with U.S. servicemen, and thus there is a probability that the variant attenuates the effects of the Moderna vaccine, by which U.S. servicemen and civilians in military employ are immunized.
At Okinawa's Novel Coronavirus Expert Meeting on July 21, Director Hideki Kuniyoshi of the Okinawa Prefectural Institute of Health and the Environment reported on genome analysis of the virus variant, and said that 2-3 people associated with the U.S. military were infected with the Delta variant and these were "not the majority."
In response to an inquiry from the Ryukyu Shimpo, the U.S. military answered that since December 2020 about 39,000 people on the military bases have been vaccinated. The U.S. military has not made public how many U.S. military personnel, civilians in military employ, and family members stationed in Okinawa have been vaccinated in total. When asked about the increase in infected persons since Independence Day on July 4, the U.S. military claimed that there have not been any cases linked to Independence Day gatherings.
(English translation by T&CT and Erin Jones)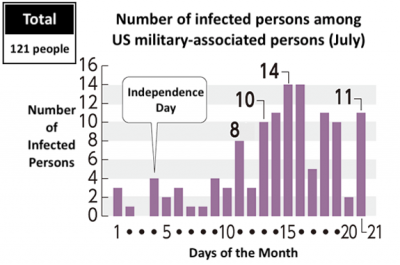 Previous Article:
Naha's new Cultural Arts Theater incorporates elements of Shuri traditional textiles and the Okinawan Sea, and hopes to become a beacon for arts and culture
Next Article:
"You must get tested before travelling to Okinawa," declares Governor Tamaki, Naha airport to also provide antigen testing
[Similar Articles
]