Ground reinforcement means initial sand needs for FRF increase 11-fold, cost rises to 150 billion yen
February 22, 2019 Ryukyu Shimpo
It has come to light that the estimated amount of sand needed for the Japanese government's ground reinforcement work on the expanse of soft seafloor in Oura Bay, as part of Futenma Replacement Facility (FRF) construction in Henoko, has increased to almost 6.51 million cubic meters of sand.
This is approximately 11 times the initial estimate for the FRF construction plan, which was 580,000 cubic meters of sand. Some of this sand will be used in the soft seafloor directly under a strip where a seawall is to be built.
This sand is to be used as sand pillars in the "sand compaction pile method," in which sand pillars will be driven into the soft seafloor and compacted, replacing 70 percent of the weak soil.
Since inserting the sand pillars might cause the seafloor to rise at most by about 10 meters, the caissons (concrete boxes) for the seawalls may need to be redesigned to compensate for the height change.
On February 21 at a plenary session of the Okinawa Prefectural Assembly, Okinawa Governor Denny Tamaki mentioned that due to clarifications about the scale of the ground reinforcement work, the Okinawa Prefectural Government (OPG) initial cost estimate of 50 billion yen has now reached 150 billion yen.
Taiga Teruya of the Social Democratic Party and Okinawa Social Mass Party coalition in the Prefectural Assembly answ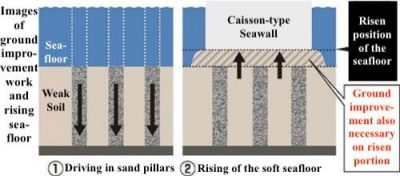 ered inquiries.
The Okinawa Defense Bureau (ODB) recorded the amount of sand needed for ground reinforcement in Oura Bay in its analytical materials about ground improvement work.
This fact was included in the OPG's written statement submitted to the Ministry of Land, Infrastructure, Transport and Tourism (MLIT) on February 20, a part of the MLIT's review of the OPG's land reclamation permit revocation as requested by the ODB.
If it were not for ground reinforcement work, in construction of the FRF only 580,000 cubic meters of sand would be needed, which would be used to fill the caissons for the seawalls.
In the ODB's application to the OPG for a land reclamation permit, it is stated that the sand will be "procured in the vicinity of Okinawa Island."
According to the OPG, about 1.22 million cubic meters of sand was collected from within Okinawa Prefecture in 2014, 1.39 million cubic meters in 2015, and 1.84 million cubic meters in 2016.
If the government attempts to collect approximately 6.51 million cubic meters of sand, the amount necessary for ground reinforcement from within Okinawa Prefecture, it will take between three and five years to collect.
Initially, the large-scale caissons for use in the seawalls were designed to be 22 meters wide, 24 meters tall, and 52 meters long. However, adjusting for ground reinforcement work, the height of the caissons is estimated to change by 14 meters.
(English translation by T&CT and Erin Jones)
Photograph description:
Soil deposits into the land reclamation area and work on extending the N4 seawall continue on February 13 on the coast of Camp Schwab in Henoko, Nago City. (Photograph taken via small drone)
Previous Article:
Miyakojima's first ever international route to connect Shimoji-shima in Okinawa and Hong Kong, set to make three rounds trips per week, expected to carry 28,000 people per year
Next Article:
"Neglecting Uchinanchu," Robert Kajiwara petitions the UN
[Similar Articles
]