Foreign Laborers in Okinawa totals 8,138 at the end of October, 2018, highest ever figure for both people and businesses
February 8, 2019 Ryukyu Shimpo
The Okinawa Labor Bureau (Takafumi Adachi, bureau chief) announced February 7 that the number of foreign laborers in Okinawa as of the end of October, 2018 increased by 828 people year-over-year (an 11.3% increase) to a total of 8,138 people. The number of businesses employing workers from foreign countries also increase by 146 companies (a 10.1% increase) to a total of 1,591. This is the highest number of total foreign workers and business that employ foreign workers since these figures started being tracked in 2007.
By country, Nepal accounts for the most foreign workers in Okinawa with 1,998, 24.6% of all foreign workers. Following Nepal is Vietnam with 1,186 (14.6%), and the Philippines with 1,014 (12.5%).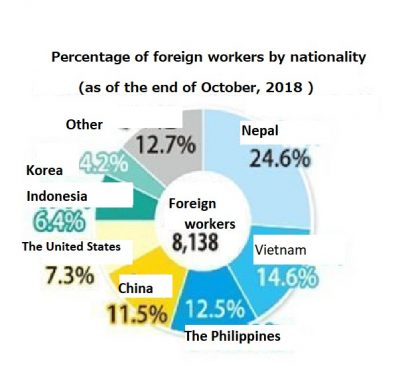 By residency status, "Foreign Exchange Student" was the highest at 2,365, 29.1% of the total. This was followed by "Specialist/Engineer" with 2,152, and "Individually obtained residency status," which includes permanent residents, long-term residents, and spouses of Japanese nationals, at 1,808.
By industry, excluding "other," the most common was "hospitality/food service industry" at 1,435, followed by "sales/retail" at 1,135, and "service industry," which includes anything from temp workers to janitors.
(English translation by T&CT and Sam Grieb)
Previous Article:
PM Abe's policy speech emphasizes Henoko relocation, fails to mention closely attending to Okinawans' feelings
Next Article:
Expert claims no previous reinforcement of soft ground 90 meters below sea level, the depth found in Henoko construction area
[Similar Articles
]