Defense ministry eyes Bora mine as likely site for ammunition depot in GSDF deployment to Miyako
September 7, 2017 Ryukyu Shimpo
(Miyako) Interviews with multiple government officials revealed, on September 6, that the "Bora mine" in Bora, Gusukube, Miyako is being eyed as a likely candidate for an ammunition depot to store missiles as part of the plan to deploy Japan Ground Self-Defense Force (GSDF) troops to Miyako Island.
The Ministry of Defense was also considering a golf course in the same area of Bora as a possible location for the ammunition depot, but at the request of Miyako residents supporting the GSDF deployment plan, the Bora mine was chosen as the most likely candidate.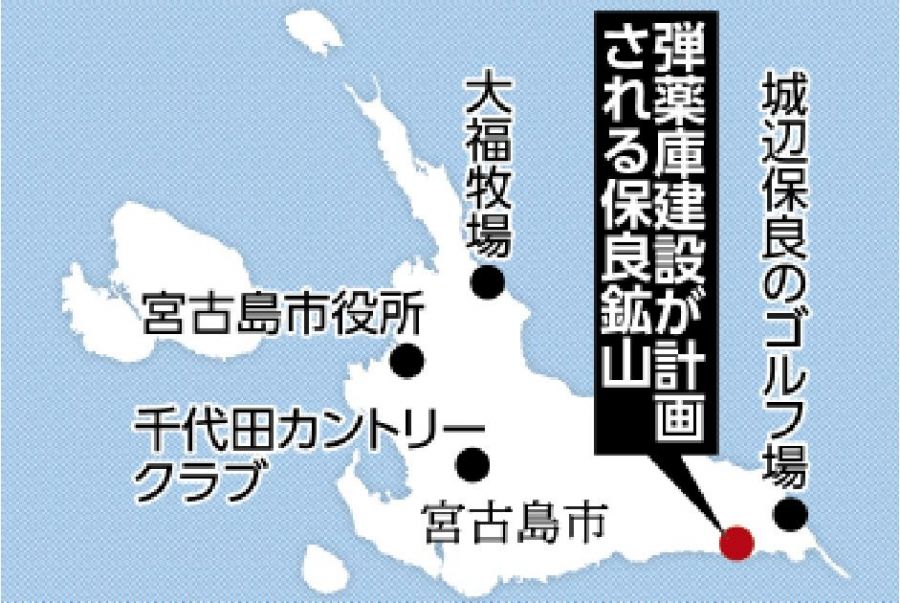 The Ministry of Defense plans to officially announce the ammunition depot location after the Miyako city council election
at the end of October, in order to avoid the announcement having any impact on the outcome of the election.
The operator of the mine and the head of Bora village have not yet expressed an opinion on the matter, and it is
possible that local attitudes could impact the progress of the plan.
Originally, the Ministry of Defense planned to build a JSDF base including an ammunition depot near the Daifuku farm in Hirara, Miyako.
However, that area is a groundwater conservation zone, and the plan was abandoned because of opposition by Miyako Mayor Toshihiko Shimoji, who had concerns about its impact on groundwater resources.
According to multiple government officials, the mine is located outside the groundwater conservation zone and comprises more than 6,000 square meters.
The landowners are the family of the mine operator and are relatively few in number, so the government anticipates little trouble in negotiating the sale of the land.
Meanwhile, the Ministry of Defense was also considering the golf course in Bora, Gusukube as a possible location for the ammunition depot.
However, a Miyako group supporting the GSDF deployment opposed this proposal, expressing concerns that closing two golf courses in Miyako (including the Chiyoda golf course) could impact tourism demand in the winter months.
Takeo Sunagawa, president of Miyako Sogo Kaihatsu, the company that operates the mine, said, "I hadn't heard anything about this and I am very surprised.
I haven't thought at all about how to respond." Tatsuo Sunagawa, head of the Bora village association, said, "We have not been approached regarding the matter.
I can't say anything now, but [the Ministry of Defense] would need to hold an information session for us first and foremost."
(English translation by T&CT and Sandi Aritza)
Previous Article:
US military report: MV-22 Osprey crash in Nago caused by pilot error in difficult weather
Next Article:
Get ready! Kinoshita circus returns to present super-miracle-illusion
[Similar Articles
]