Ocean Expo and Shurijo Castle Parks' attendance reach record high of over 7.28 million visitors
April 30, 2016 Ryukyu Shimpo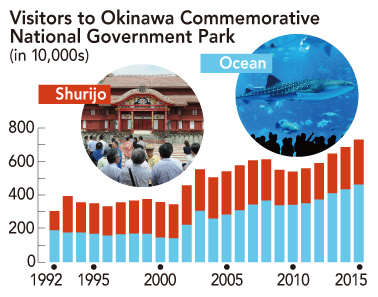 The total number of visitors to Okinawa Commemorative National Government Park (comprised of Ocean Expo Park and Shurijo Castle Park) in 2015 exceeded the total in the previous year by 6 percent at 7,280,784 visitors. This number has increased consecutively for the last 3 years. Bolstered by a rise in tourism in Okinawa, the Park has noticed the increased attendance throughout the year. On April 28, the Okinawa General Bureau announced the Park's high attendance.
Visitors to Ocean Expo Park have increased in number for the past 4 years successively, reaching 4,607,961 in 2015 at a 6 percent rise from the year prior. Churaumi Aquarium, which has become the main attraction of Ocean Expo Park, noticed a 5.5 percent increase in patronage from the previous year at 3,408,521 visitors in 2015. The number of guests admitted to Churaumi Aquarium has risen for the second year in a row. The Okinawa International Orchid Show and other such events have had a positive effect on patronage to Ocean Expo Park.
Shurijo Castle Park marked a 6 percent rise in patronage at 2,672,823 people in 2015, the second highest number of people to have ever visited within a year. Visitors to the part of the park requiring admission fee payment rose 3.5 percent to 1,875,838 people, the third most to have entered this section within a year. Ryukyu dance demonstrations and other such exhibitions have boosted park attendance.
(English translation by T&CT and Erin Jones)
Previous Article:
Smallest cicada found in unexpected area
Next Article:
Okinawa art troupe performs Ryubu at Hue festival in Vietnam
[Similar Articles
]