Trip Advisor ranks sightseeing destinations among Japanese people and foreign tourists for 2015
April 9, 2016 Ryukyu Shimpo
The largest travel website in the world, Trip Advisor, released 2015 data on Japan's most popular sightseeing destinations among Japanese people and visitors from abroad, based on user reviews of any language on the site.
The highest-ranking sightseeing destination within Okinawa was found to be Nishihama Beach (Taketomi) among Japanese people, and Churaumi Aquarium (Motobu) among foreign travelers.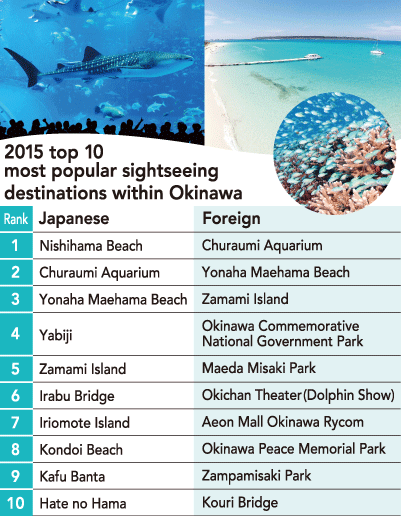 Based on user reviews on Trip Advisor in 2015 the second and third most popular tourist destinations for Japanese travelers are Churaumi Aquarium and Yonaha Maehama Beach (Miyako), respectively. For visitors from abroad, Yonaha Maehama Beach is ranked as the second most popular and Zamami Island (Zamami) as the third most popular tourist sites.
When observing the number of reviews submitted by travelers to each prefecture within Japan, reviews on sightseeing destinations in Okinawa account for 6.7 percent of all reviews by Japanese travelers, ranking it third. However, reviews from foreign travelers only rank it in seventh at 3.4 percent.
The prefectures with the most reviewed sites on Trip Advisor among Japanese travelers are Tokyo at 19.1 percent and Hokkaido at 7.8 percent, with Okinawa ranked third. Reviews by tourists from abroad also focus in Tokyo at 32 percent, followed by Kyoto at 15.7 percent, and Osaka at 10.3 percent.
(English translation by T&CT and Erin Jones)
Previous Article:
1,500 people stage protest rally 20 years after agreement to close Futenma base
Next Article:
At working meeting, Okinawa and Japanese governments agree to remove Henoko floats
[Similar Articles
]