Two JSDF's member injured after US military helicopter crashes off coast of Okinawa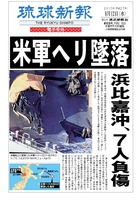 August 13, 2015 this story compiled from articles of Ryukyu Shimpo
At 1:46 p.m. on August 12, in the southeastern waters off the coast of Ikeijima Island, Okinawa, an MH-60M Black Hawk helicopter belonging to the U.S. Army's Special Operations Aviation Regiment crashed on a Navy cargo vessel.
U.S. Forces Japan said the chopper made a "hard landing during training."
Six injured service members were taken to the U.S. Naval Hospital.
Two of the injured belong to a Japanese special response unit called the Central Readiness Force, according to Japan's Ground Self-Defense Force. The two took part in the exercise to observe U.S. military training.
A Japanese military expert Tetsuo Maeda pointed out, "This training exercised the right to collective self-defense in advance of the security bills being passed. The bill is currently being debated in the Upper House."
Okinawa Prefectural Government asks Defense Bureau to prevent recurrence of U.S. military' accidents
On the morning of August 13, at the Prefectural Office, Masaru Machida, director general of the Okinawa Governor's Executive Office, met with Maki Koyanagi, deputy director of the Okinawa Defense Bureau, and Daisuke Nakano, deputy director of the Okinawa Office of the Ministry of Foreign Affairs. He urged them to ensure the U.S. military takes more thorough safety measures, particularly to prevent recurrence of accidents.
(English translation by T&CT)
Previous Article:
Kenzaburo Oe sends heartfelt support for fight in Henoko
Next Article:
US military parachute drop training: Ie Mayor requests Defense Bureau to take stricter safety measure
[Similar Articles
]